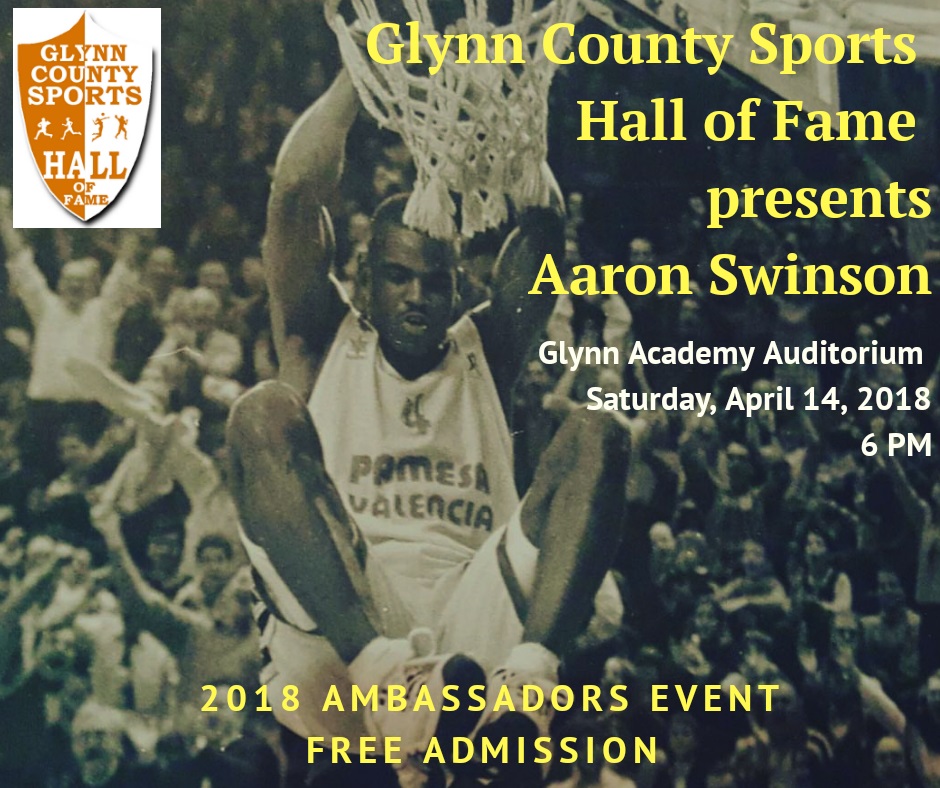 BRUNSWICK, Ga. – The Glynn County Sports Hall of Fame is set to recognize local student-athletes at its upcoming Ambassadors event on Saturday at the Glynn Academy Auditorium.

The event will begin at 6 p.m. and will feature Glynn County Sports Hall of Fame member Aaron Swinson as the guest speaker.
The Hall of Fame began its Ambassadors Program in 2015 to honor top senior student-athletes from the county's three main high schools – Brunswick, Glynn Academy and Frederica Academy. Each year, the Hall of Fame awards $3,000 in scholarships as part of the program.
At Saturday's event, eight student-athletes from each of the three schools will be honored with one from each school receiving a $1,000 scholarship. The Hall of Fame works in conjunction with school administrators to identify the student-athletes who earn the Ambassador awards.
The 2018 Ambassador honorees include the following:
Brunswick: Antonisha Davis, Jordan Caprino, Emily Spence, Aleah Underwood, John Cano, Harrison Trawick, Aubrey Williams, Marcus Scott.
Glynn Academy: Will Bowdoin, Caine Crews, Claire Fendig, Alivyah Floyd, Hunter Hall, Randon Jernigan, Morgan Overly, Jack Podlesney.
Frederica Academy: Santana Clark, Jacob Myers, Jack O'Hara, Ryan Steilen, Jalaya Lewis, Curran Squire, Jenifer Arellano-Mendoza, Piper O'Quinn.
In years past, the Hall of Fame recognized the student-athletes at its annual induction banquet. But last year when the Hall did not have an induction ceremony, it honored the athletes at an event sponsored by the Golden Isles Basketball Association which featured Mike Lutzenkirchen from the Lutize 43 Foundation as the guest speaker.
This year, the Hall of Fame has decided to host a similar event in which the Ambassadors will be honored in front of their peers who make up the audience. The Ambassador event is geared toward middle- and high-school athletes at local schools, but all middle- and high-school aged youth in the community are invited to attend.
Admission is free to everyone.
Swinson, a former Brunswick High basketball standout, is returning home to speak at the event. Following his stellar career with the Pirates, Swinson went on to play at Auburn University, where he was a two-year captain for the Tigers and twice earned All-SEC honors.
Swinson played 11 years professionally, starting out with the Phoenix Suns in the NBA before playing with the Yakima Sun Kings in the Continental Basketball Association, winning league MVP honors while also leading the Sun Kings to the CBA championship in his second season. He also played professional basketball internationally for 10 years with teams in Spain, Italy, France and Argentina.
After his playing career, Swinson entered the coaching profession and continues to coach today. He started out as a high school coach before coaching in the NBA Developmental League. He has spent the last several years coaching collegiate women's basketball with stints as an assistant coach at Tulsa, Cincinnati and now Prairie View A&M where he has been since the 2016 season.
Following his playing career, Swinson returned to Auburn to finish his bachelor's degree in adult education in 2005. He later earned a master's degree in criminal justice from Cincinnati.
Swinson is married to Charlene Thomas-Swinson. The couple has a son, Charles, and a daughter, Jada.
The Glynn County Sports Hall of Fame is a non-profit organization that began in 2011. It has inducted 35 members since its inception. The Hall of Fame held its 2018 induction banquet in March at the Jekyll Island Convention Center.