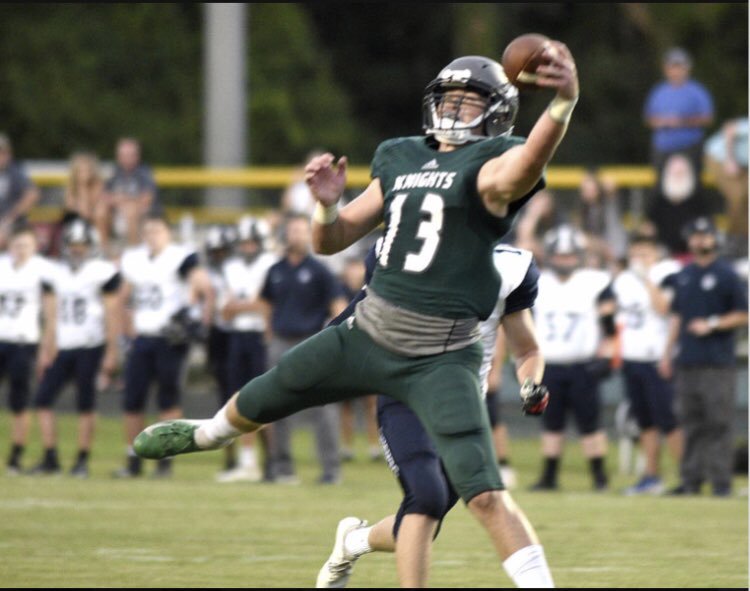 Harry Veal is a standout player for the Frederica Academy Knights.

Always a steady force as a starting linebacker for the Knights, Veal had a solid performance on the defensive side of the ball in Frederica's 53-7 victory last Friday over Heritage in the Georgia Independent School Association Class 3A semifinals.
Veal recorded eight solo tackles and four assists while also notching two sacks and causing a fumble.
But the Frederica senior also made major contributions offensively for the Knights in the victory. Veal had four catches for 106 yards and also had three runs for eight yards and a touchdown.
For his strong performance, Veal has been named the Southeast Georgia High School Football Player of the Week.
"Harry has been playing really well the last three games. He's playing like the Harry we know he is," said Frederica head coach Brandon Derrick. "He's a catalyst on the defense, and we knew he could be a good offensive player. He has good hands and good speed and can do that."
Veal and the Knights will play for the state championship this Friday against John Milledge Academy at Mercer University in Macon.
Players of the Week
Regular Season
Week 1 – Logan Watson (Camden County)
Week 2 – Kris Coleman (Liberty County)
Week 3 – Isaiah Jackson (Frederica Academy)
Week 4 – MJ Fuller (Wayne County)
Week 5 – Kevin Harris (Bradwell Institute)
Week 6 – Shamar Taylor (Wayne County)
Week 7 – KJ Lee (Brunswick)
Week 8 – John Jones (Pierce County)
Week 9 – T'Shawn Lang (Glynn Academy)
Week 10 – Jamal Polite (Richmond Hill)
Week 11 – Deon Bell (Pierce County)
Week 12 – Sam Wagner (Glynn Academy)
Playoffs
Week 1 – Thomas Castellanos (Ware County)
Week 2 – Dee Bethea (Pierce County)
Week 3 – Harry Veal (Frederica Academy)