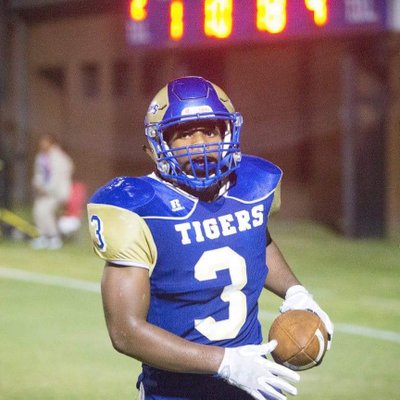 Bradwell Institute notched its first win of the season this past Friday night, and senior running back Kevin Harris played a major role in the win.
Harris ran for 154 yards and two touchdowns on just 13 carries to help the Tigers to a 42-8 home victory over Tattnall County.
For his performance, Harris has been named the Southeast Georgia High School Football Player of the Week.
Harris missed Bradwell's previous game at Valdosta due to injury, but he returned to the field Friday for the Tigers (1-3) and made an instant impact. He scored on runs of 6 and 44 yards as the Tigers cruised to the win in Hinesville on homecoming night.
"Kevin is the epitome of a power back," said Bradwell coach Ross Couch. "He loves getting downhill fast and running between the tackles. One area he's improved this year is his quickness and ability to make people miss, which is something that was a focal point for him in the offseason.
"That showed Friday against Tattnall, when he was able to extend a few runs and make some big plays for us."
Harris is already committed to South Carolina. The 5-foot-11, 230-pound running back bench presses 350 pounds, squats 550 pounds and power cleans 350.
He owns a 3.5 grade-point average in the classroom.
"He has that internal motor that's going to make him successful in everything he does," Couch said.
Players of the Week
Week 1 – Logan Watson (Camden County)
Week 2 – Kris Coleman (Liberty County)
Week 3 – Isaiah Jackson (Frederica Academy)
Week 4 – MJ Fuller (Wayne County)
Week 5 – Kevin Harris (Bradwell Institute)