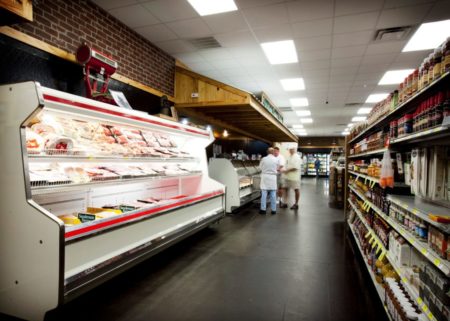 The Cordele-Based Full-Line Grocery to Offer Celebrated Sausage, Artisan Foods and Southern Hospitality to the Georgia Coast
Stripling's General Store has announced its expansion into Brunswick, Ga. with its fifth location, slated to open by end-of-year 2020.
Situated at 2304 Glynn Avenue, the family-owned & operated grocery will be prominently located at the intersection of U.S. Highway 17 and the F.J. Torras Causeway, and will be conveniently accessible from Warde Street.
Officially founded in 1964, Stripling's began as a small sausage kitchen fifty years prior in Warwick, Ga. when native James Stripling's passion for pork led him to develop Stripling's sausage recipe. That same recipe still serves as the backbone of the family business, which now boasts three retail locations owned and operated by Stripling's nephew, Ricky Hardin, as well as a fourth retail location owned and operated by franchisee Jimmy Camp.
For the brand's fifth location, Hardin will join forces with franchisees Dennis Carey and
Buster Byrd to bring Stripling's artisan foods, premium meats and southern hospitality to the Georgia coast. An instrumental leader among Georgia's forestry industry, Carey will develop Stripling's Golden Isles location with the entrepreneurial spirit used in his founding of the multi-faceted timber operation, Pine Timber Wood Production Inc., and the establishment of Pine Timber Trucking Inc. Likewise, Byrd will bring with him over 40 years of experience in both the real estate and timber industries, where he is involved with Barrow & Byrd Properties, Inc. Longtime friends and successful business partners, the duo frequent the Brunswick area often and quickly recognized the growth opportunity for the Stripling's brand.
Coined "Stripling's Golden Isles," the grocery will reside within the 23,000-square-foot building that was once the Endicott Buick Used Car Superstore. In March of 2018, Carey and Byrd appointed environmental lawyer Beth Blalock to work within the guidelines of the Georgia Environmental Protection Division's Brownfield Program to voluntarily repair the contaminated lot. Thanks to the Stripling's team, the plot of land that has been untouched for decades is now an opportunity for economic development and will soon boast over 14,500 square feet of retail and 20 full-time employees. The brand commissioned St. Simon's-based Larry L. Bryson Architect for the build out of the existing structure, which is slated to break ground in late October.
Known for its high-quality meats and gourmet goods, Stripling's will serve as a one-stop-shop for the local community and visitors alike. Upon entering, guests will find an open layout and warm white tones, and an interior that complements the Stripling's brand that many Georgians have grown familiar with. In addition, Stripling's Golden Isles will feature an array of specialty items, including southern-based brands and a section dedicated to products from Georgia Grown artisans. The meat market will take the spotlight, with the butcher case displaying ready-to-serve and semi-ready items, as well as Certified Black Angus Beef and all cuts of fresh pork. Most importantly, within the butcher case shoppers can find a large selection of Stripling's celebrated sausage, and just nearby, a variety of Stripling's beef and pork jerkies. Alongside smoked meats, the butcher shop will also showcase a variety of fresh-catch seafood, offering shoppers a taste of the nearby sea. Setting it apart from previous locations, Stripling's Golden Isles will highlight an impressive variety of fine wines that will pair well with a day at the beach or an at-home dinner.
For those traveling through town or heading to the coast, Stripling's Golden Isles will also serve as a quick and all-inclusive pit stop, boasting gasoline, ready-made food and more. Stripling's hot bar will offer prepared breakfast and lunch offerings daily, in addition to an arrangement of smoked meats and signature sides for take home service. On-the-go favorites include Stripling's housemade sausage dogs, pulled pork sandwiches, brunswick stew, and sausage biscuits, to name a few. A plethora of general groceries, including artisanal cheeses, dips, crackers, preserves, sweets, wine and beer, will also be available for purchase. Stripling's will offer ample seating and invites patrons to pull up a rocking chair on the storefront's porch to rest, relax and enjoy. Finally, spacious bathrooms furnished with ceramic wood plank tiles, custom sinks and large stalls complete the destination as the ultimate pit stop.
"The Brunswick community has a great buzz to it and we believe everyone will really appreciate what we're bringing to the area," says Ashley Goss, Hardin's daughter and marketing officer of Stripling's. "We're extremely excited to hit the ground running and look forward to celebrating this milestone with the community."