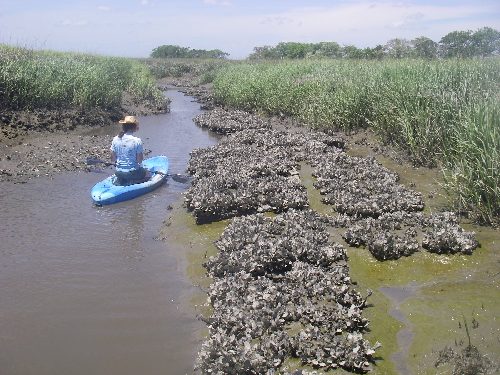 The recreational shellfish harvest area in Glynn County south of Downing Musgrove Causeway between Jekyll Island and Brunswick will re-open to the public at 7 a.m. Friday, Nov. 8, 2019.
Mark Williams, commissioner of the Georgia Department of Natural Resources, signed an administrative order Thursday, Nov. 7, 2019, to re-open the area in Jointer Creek. The area was previously closed Oct. 3 due to precautionary concerns regarding from the capsized Motor Vessel Golden Ray in the St. Simons Sound.
The re-opening comes after staff with DNR's Coastal Resources Division surveyed and evaluated the area and observed no sign of visible contamination. The harvest area is also hydrologically isolated from the St. Simons Sound by two major tidal nodes – one in the Intracoastal Waterway and the other in Cedar Creek east of the Sidney Lanier Bridge.
The October closure of the area was made out of an abundance of caution following two significant releases of pollutants from the Golden Ray. At no time were pollutants observed in the shellfish harvest area. There have been no major pollution-related incidents involving the Golden Ray since Sept. 30.
Shellfish may only be harvested with handheld implements. Harvesters may pick oysters a half-hour before sunrise until a half-hour after sunset. Oysters must measure no less than three inches from hinge to mouth, unless the oyster cannot be removed from a legal-size oyster without destroying it. Recreational quantity limit is two bushels of oysters per person, per day, with a maximum of six bushels per boat. Recreationally harvested oysters cannot be sold commercially. Harvesters must have a valid Georgia fishing license.
The Golden Ray overturned Sept. 8 in the St. Simons Sound south of the St. Simons Pier. It was carrying 24 crew, who were all rescued, 4,151 vehicles and more than 350,000 gallons of fuel. To date, about 302,000 gallons of fuel have been safely removed from the ship. The response operation is being handled by the Unified Command, which is made of three entities: the responsible party, the U.S. Coast Guard and the Georgia Department of Natural Resources.