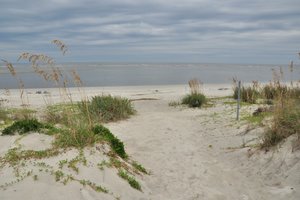 The Department of Natural Resources Coastal Resources Division (CRD) says it is still taking precautions to keep the public safe and prevent the spread of Covid-19.  For that reason and relying on the focus on of public safety, the annual Beach Week events, typically scheduled for Independent Week, have been canceled.

From the news release:
With summer in full swing, Georgia beaches throughout the coast continue to be popular destinations for visitors and residents. Therefore, CRD encourages the public to visit our website at https://coastalgadnr.org/BeachWeek2020 to learn more about the sights and sounds on Georgia's coast.  You will also find links to our partners sites to allow you to dive a little deeper.
Did you know that Georgia is home to 100 miles of shoreline, 380,000 acres of saltmarsh, and 14 barrier islands which buffer the mainland from the Atlantic Ocean? Five major freshwater rivers feed the Georgia coast, forming an extensive estuarine ecosystem. This network delivers vast amounts of freshwater to the coast and creates a range of habitats that support diverse wildlife. Although relatively undeveloped, the coastal Georgia landscape is changing nonetheless. New residents are drawn by the region's natural beauty and abundance of recreational opportunities. Through a combination of wise management, stewardship, and collaboration, everything we love about coastal Georgia can be conserved for generations to come.