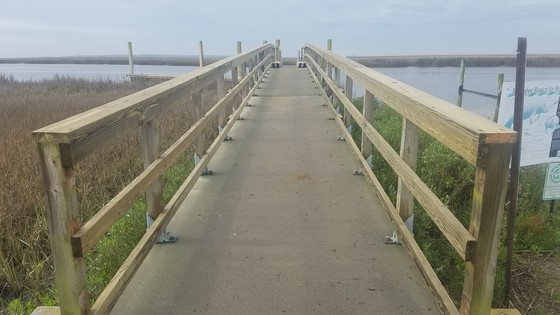 Federal, state, and local partners last week enhanced the fixed and floating docks at Fort Pulaski's Lazaretto Creek Boat Ramp in Chatham County.
Lazaretto Creek boat ramp on the south side of U.S. Highway 80 was improved in a partnership between the Coastal Resources Division (CRD) of Georgia's Department of Natural Resources, Chatham County, and the National Park Service.
The improvements aim to increase boating and fishing access and enhance safety here at Lazaretto Creek, said Paul Medders, head of CRD's Public Access Unit.
"Crews installed new skirt-boards and rub-rails for the floating dock, alongside new handrails on the fixed dock," Medders said. "We are happy to offer these reinvestments to the public. These are their fishing license dollars being put to work; we want to thank them for their investment in Georgia's natural resource management."
The enhancements were funded through Georgia Fishing License revenue and are part of CRD's ongoing initiatives of increasing and improving boating and fishing access along Georgia's coast while ensuring the safe functionality of Georgia's boating and fishing access infrastructure.
Fort Pulaski's boat ramp is managed through a partnership between the National Park Service, Chatham County, and CRD. The Division manages approximately 40 boating access sites across the state's coast in similar intergovernmental agreements prioritizing the enhancement of Georgia's boating and fishing access.
In addition to the Lazaretto Creek improvements, CRD is simultaneously conducting enhancement projects with license enhancement funds at Houlihan Boat Ramp in Port Wentworth, which will remove deteriorating structures, renovate both boat ramps, and expand the floating dock. The Sunbury Boat Ramp near historic Sunbury is also undergoing a complete renovation in parking, facilities, and disability access.