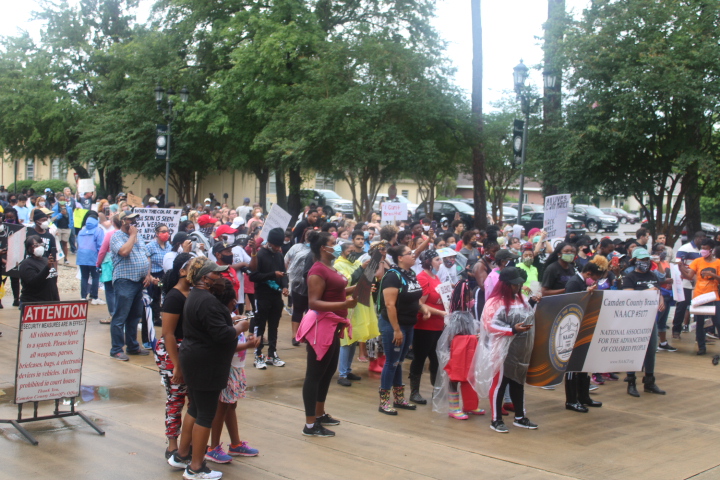 With contributions by Jessica Szilagyi & Patrick Betchik. Photos by: Patrick Betchik

Protests in Camden County over the weekend – in both Kingsland and Woodbine – were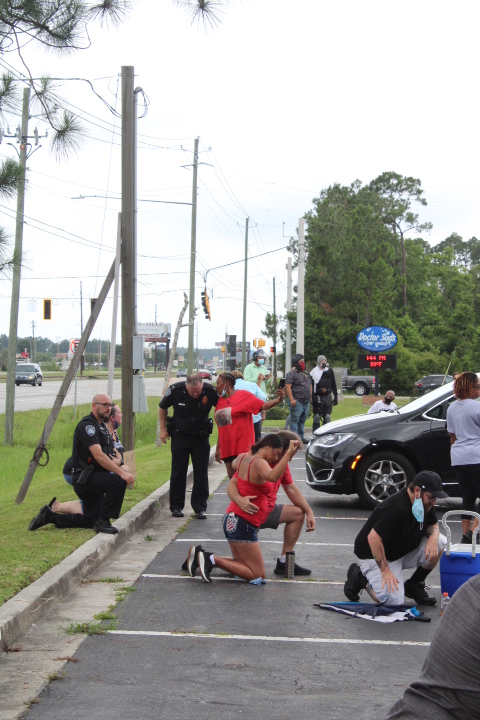 largely peaceful, but different in their own way.
Kingsland's Saturday protest was organized in part by Lauren Passich, who spoke to an estimated 750 attendees from the sunroof of her vehicle.
Two pick-up trucks awaited the protesters return in the Lowe's parking lot. Walkers in the protest were reminded "not to sink to the level" of any agitators as some drivers made derogatory remarks as they walked.
Sunday's protest in Woodbine was different. Led by Reverend Mack DeVon Knight, approximately 500 people joined to walk for a second day in an organized protest by the NAACP Camden Chapter.
Story continues below.
Reverend Fer-Rell M. Malone Senior of Waycross energized the crowd with open calls for the removal of District Attorney George Barnhill in Ware County and Jackie Johnson in the Brunswick Judicial Circuit – encompassing Appling, Camden, Glynn, Jeff Davis, and Wayne counties.
Patrick Betchik, who attended both days, remarked that the crowds were diversified in race, gender, and age.
The sister of Ahmaud Arbery, who was killed in Brunswick in February but made national headlines when a leaked video went viral, attended and well-known activist Peter Anderson sang "Remember the Days."
Elected and appointed officials were present with the groups both days, with Kingsland Mayor Grayson Day and Woodbine Mayor Izzie Knight, who is a deputy sheriff for Camden County, joining the crowds to walk on Saturday and Sunday.
Speaking on the national conversation of police brutality, Kingsland Police Chief Robert Jones told walkers that "Not all cops are like that," referencing the now-former officers in Minneapolis. Sheriff Jim Proctor did not speak as long as Jones, but said "I am you and you are me" in these matters, reiterating that he works for the people.
Law enforcement presence included officers from the Kingsland and Woodbine police department as well as deputies from the Camden County Sheriff's Office. Betchik said several Kingsland police officers took a knee with protesters in memory of George Floyd.
A caravan is planned for June 19th in recognition of Juneteenth – a holiday which recognizes the 1865 reading of the Emancipation Proclamation and the end of slavery. The caravan will leave Waycross at 7:00 p.m., travel 82 West to I-75 North and then on to Atlanta.  Participants plan to call on Governor Brian Kemp to remove Johnson and Barnhill from office.