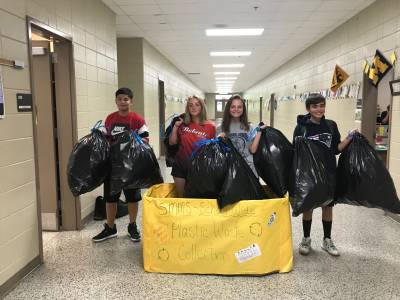 As part of the 8th grade "Trash to Treasure" STEM project, SMMS students collected plastic bottle waste produced during the school day for a one-week period. The bottles were collected, counted and bagged for recycling. After extrapolating the data, it was determined that SMMS students and staff throw away over 1100 plastic bottles each week, which yields over 39,000 plastic bottles being discarded each school year. The next step is to devise a recycling plan that is both efficient and effective for our school.
Mr. Kevin Barkley, Director of Solid Waste for Camden County, conducted a seminar with the 8th grade science classes. Mr. Barkley's presentation was both informative and engaging. He addressed many of the students' questions and concerns regarding solid waste management and recycling in our community. The information obtained from the seminar will assist students in devising an appropriate recycling plan.
Information from Camden County Schools.