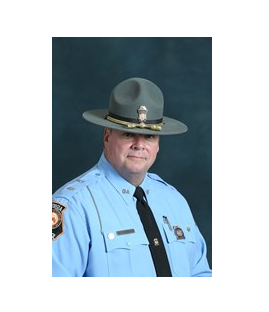 Coastal Pines Technical College's commencement will be Thursday, January 30, 2020, at 7:00 pm.  The ceremony will be held at the Wayne County High School Auditorium in Jesup.  Clay Kicklighter will deliver the commencement address.
Georgia State Patrol Assistant Troop I Commander Lieutenant Clay Kicklighter has served the citizens of Georgia as a Trooper since 1992.  He was promoted to Assistant Troop I Commander in July, 2011.  Troop I encompasses fifteen southeast Georgia counties, including all of the I-95 corridor from the Florida state line to the South Carolina state line.  This territory includes Kings Bay Naval Base, Ft. Stewart Army Base, and Hunter Army Airfield.
Prior to his appointment to Assistant Troop Commander, Lieutenant Kicklighter served as the Post Commander at Post 16 Helena.  Lieutenant Kicklighter rose up through the ranks of the Georgia State Patrol in Brunswick and Waycross.  He also served as a Trooper in Douglas, Hinesville, and on Jekyll Island.  From 1999 to 2001, he was a member of the State of Georgia SWAT Team and received extensive training as a SWAT operator.
Lieutenant Kicklighter has a Bachelor's Degree in Criminal Justice from Liberty University.  He has successfully completed the Professional Management Program taught at Columbus State University and recently graduated from the prestigious Northwestern University's School of Police Staffing and Command.  Lieutenant Kicklighter was elected as Class President for SPSC 416.  He was Honorably Discharged from the United States Air Force in 1988.
Lieutenant Kicklighter assists the Troop I Captain who oversees the operations of Troopers assigned to patrol duties; including those Troopers assigned to Implied Consent, Safety Education and the Specialized Collision Reconstruction Team.   He also oversees the Troop Communications Center that dispatches for the Department of Public Safety and the Department of Natural Resources Law Enforcement Division.
Lieutenant Kicklighter his wife Lisa and their two sons, Grayson and Ches, live in Wayne County and attend Altamaha Baptist Church.