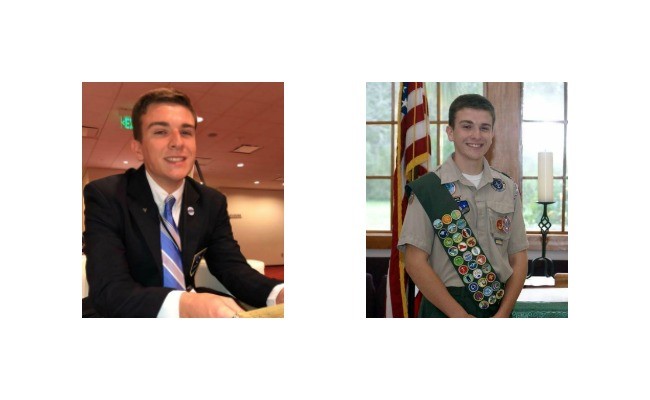 AllOnGeorgia-Camden's student spotlight highlights the great achievements and service of Camden County students. If you would like to recommend a student for their achievements, message us at our Facebook Page or email camden@allongeorgia.com
---
While acts of stupidity from some teens are plaguing social media, (Think Tide Pod Challenge or other interesting behavior) it is nice to know that there are still teens that have worthwhile goals and a plan of success in their lives.
It is nice to know that the future, at least a small part of it in our neighborhood, has some fine young adults growing up, maturing and ready to make their dreams come true.
That is most true for a junior at Camden County High School. Joshua White is involved in his classes, high school clubs and a few community groups. Pretty impressive resume he has built. During an interview with Mr. White, as our first spotlight on local youth, he shared the names of the groups he is a member of, along with the title he holds in many:
Boy Scouts of America – Junior Assistant Scoutmaster of Troop 226 & Eagle Scout
Venturing – President of Venture Crew 226
DECA – 2018-2019 President of Camden DECA
National Eagle Scout Association – Proud member since 2016
CCHS Senior Beta Club – Member since 2016
CCHS Teen Republicans – Member since 2017
This well-rounded kid has goals, and plenty of them. Short term goals, long-range goals, etc. When asked about his immediate goals, Mr. White shared:
"In life right now, my immediate goals are to make every day worth it. I do not want to spend a single day where I have not accomplished some sort of task, whether it be a small chore or a paper for one of my college classes. To me, every day must be spent wisely since we are all limited on days, so I'd rather spend my days doing work then not doing anything."
He says that he wants to make the most of his remaining days of high school, filling them with activities and new experiences, "that way I know I didn't spend my last years of primary education being uneventful/unimaginative."
For long-term goals, he says he really only has one: "to be successful in life. That does not mean to die with riches but to die happy, knowing I lived my life to the fullest. To accomplish these goals, I plan to use my immediate goals to make every day and every second of life worth it, whether I am faced with happy moments or sad moments."
Seems like while some kids are leveling up on the newest video game, Mr. White is preparing for a better tomorrow. His plan in life is to own a gym, whether it is part of a franchise or a small business.
"The reason why I chose this is because in the past two years of my life, a majority of it has revolved around exercising and business. My father, an avid weightlifter, helped me start lifting weights."
He found that exercise increased his self-confidence, which lead to his participating in other activities. Mr. White explains, "specifically me joining the co-curricular student organization, DECA." DECA, in short, "prepares emerging leaders and entrepreneurs for careers in marketing, finance, hospitality, and management in high schools and colleges around the globe. Through conferences and competitive events I have participated in this organization, I have grown a great interest for business, mainly management/entrepreneurship. After long thought, I decided to combine my passion for exercising and business into one, simple idea – owning a gym."
What other long-term goals does he have? Well, here is his life plan for the next 30 years: "I plan to pursue a Master's Degree in Business Administration, possibly at the University of Pennsylvania, then to finalize my education overseas at University of Oxford's business school," said White.
"In 15 years, I plan to be finished with all of this and beginning the start-up of my business, which could take potentially years. I do have a strong desire for my gym though, so I will continue to work until my dream becomes a reality. This means that in 30 years, I imagine owning a great gym in a metropolitan area, with many members and a remarkable staff, making a great environment for anyone. I will work endlessly until this goal is accomplished. I will make every day of my life worth something to reach my goals."
You are probably wondering what motivates this almost too-good-to-be-true-teen. Well, the answer is quite moving:
"My main motivation to pursue my goals, improve myself, and lead others is my oldest brother's death. My oldest brother, Kevin, drowned in 1999, two years before I was born. He died at the age of 12, meaning that he didn't even get to finish Middle School. To die at such a young age means he never got the opportunity to pursue his goals in life, to be successful. Because of that, I have decided to pursue my goals and take every opportunity I can, that way I know he can look down upon me and be proud. At times I have felt discouraged and have just wanted to give up, but then I remember what all my work is for and pick myself back up. I may have never got to meet my brother, but I feel as if he is with me for every step I take in life."
Wouldn't it be great if we would just clone this kid 100 times over? The world is a bit brighter because of the self-worth and leadership skills this teen has developed over the years, and because of his self-promise to make something of himself.