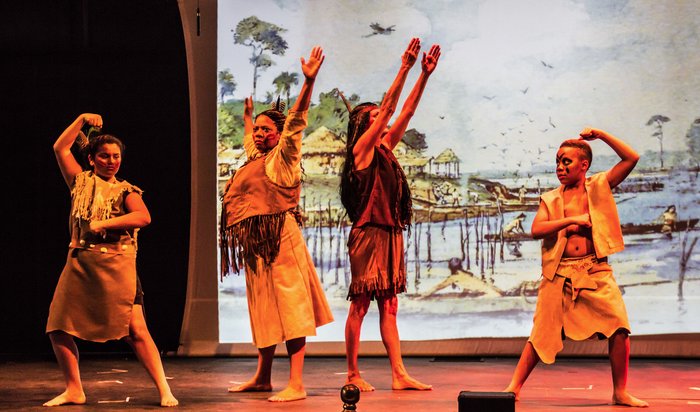 All safety precautions will be taken: safe distancing, masks, temperature taking.

Low Country residents and visitors will watch history come alive when the St. Marys Little Theatre presents the original musical, "River of Life," at Theatre by the Trax in St. Marys on September 11, 12, 13, 18, 19 and 20.
According to co-directors Barbara Ryan and Ann Walsh, the two hour production will be a roller coaster ride of emotions—and purposefully so.
"You'll laugh. You'll cry. You'll find yourself singing along with Admiral Cockburn, Aaron Burr, and other figures in history who have played a role in our area's rich heritage," Walsh said.
"River of Life" begins in the earliest of times with the Timucuan Indians, then traverses hundreds of years portraying the trials and triumphs of St. Marys' founding fathers, the tragic Acadians, early settlers, railroad and paper mill workers, the founder of Black education, Carnegie descendants on Cumberland Island and more…all the way to the establishment of Kings Bay Naval Submarine Base and St. Marys' iconic waterfront park.
L. J. Williams, Vice Chair of St. Marys Little Theatre, says "River of Life" will bring together all the great cultures that contributed to the diversity of Coastal Georgia.
"Throughout the performance, the audience will be engaged by the many cultures that have had an impact on St. Marys and the surrounding area," Williams said. "Through the eyes of those who came before us, a powerful story will unfold and show how everything fits into the big picture that is who we are today."
Williams went on to say that every school child should view the performance.
"Here is an opportunity for students to absorb living history in an entertaining format that will stay with them long after the written word may have faded away," he said. "Even those who don't fancy themselves fans of history will enjoy the way fact has been woven with song and whimsy resulting in high art and wonderful entertainment."
Most of the 20 songs performed in "River of Life" were written by Barbara Ryan and orchestrated by her son, Jerry Lockamy, who was a student of Andre Segovia's last protégé.
"Jerry has added a masterful touch to the words and tunes that carry the stories," Ryan said. "We're confident that audiences will leave inspired with a greater feeling of their connection to history."
The 2020 presentation of "River of Life" is a return performance by popular demand.
All safety precautions will be taken: Only 50 seats will be reserved for each performance to ensure safe distancing, audience is requested to wear masks, and temperatures will be taken upon entry.
"River of Life" performances are September 11, 12, 18 & 19 at 7 pm, and September 13 & 20 at 2 pm. All performances are at Theatre by the Trax, 1000 Osborne Street in St. Marys. Tickets are $15 for adults and $10 for children 12 and under, and can be purchased at Once Upon a Bookseller in downtown St. Marys or online at www.stmaryslittletheatre.com. For more information, call 912-729-1103 or visit www.stmaryslittletheatre.com.
---
The St. Marys Little Theatre actors in the upcoming "River of Life" are ready to be adopted. They are all so cute and talented and many of them play several roles in the production. Here's your chance to support your community theatre and make an actor very happy.  Your $60 adoption donation will help with costumes, props, stage sets, lights and sound. It's really easy and you get your photo taken with your adopted actor and it will appear in the next issue of St. Marys Magazine.
Here are your adoptions choices. You can adopt as many as you like!
ALLEN LANGENBAHN
ANN WALSH
ANTHONY BUNTEN
BRENDAN HOLMES
CAROL MOORE
CAROLYN HALLER
CHERYL SMITH
CHRIS WHITE
COLLIN GALVIN
CY REEDER
DEBRA PARSONS
DENNIS SMITH
EMMY GRACE BOOTH
ERIC WILLIAMS
ERIK NESTERUK
FRED MYERS
GLORIA HURLEY
JIMMY GALAVIZ
KATHY LOU GILMAN
KRYSTAL FIELD
LAYLA LAMM
MADISYN BUTLER
MELISSA HOLMES
MEMPHIS THE DOG
STARLETTE MYERS
SUSAN LANGENBAHN