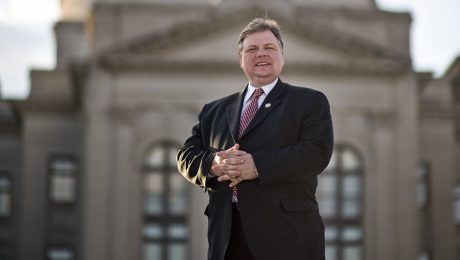 After filing legislation advocating for a 346% pay raise for state lawmakers, State Senator Jeff Mullis says he will file a bill to cut the pay for lawmakers as the state works to offset the financial hemorrhage of the COVID-19 pandemic response.

In February 2019, AllOnGeorgia reported that Mullis was the sole Republican sponsor on a Democratic initiative to increase salaries of Georgia lawmakers to more than $56,000.
A bill filed in the Georgia legislature would bring the annual salary of Georgia lawmakers in line with median annual household income in Georgia, which would allow the pay to automatically adjust without legislative review should the median number increase or decrease.
The increase would be a more than three fold increase from what is currently law. Lawmakers in Georgia currently earn just over $17,000 annually and are already entitled to retirement benefits after four terms – or eight years – and they can opt in to the state health benefits plan while they are serving as well. Elected officials also receive a $173 per diem day reimbursement for days worked as lawmakers outside of the 40-day legislative session in the beginning of the year.
The measure would spike the annual salary to $56,183, or over $1,400 per day of the 40 day session.
But Mullis is in an embattled three-way primary against State Representative Colton Moore and businessman Todd Noblitt, both of whom have called Mullis' record into question. (The 53rd Senate district encompasses Walker, Dade, Catoosa, and a large portion of Chattooga counties)
Now, Mullis is changing his tune. WZQZ Chattooga 1180 reported:
Mullis released a statement, saying in part: "I am introducing legislation that will reduce legislator pay by 14%… the same amount being requested of our state agencies.  Being entrusted as a subcommittee Chair on Senate Appropriations, my colleagues and I will develop a plan to reduce our budget, while still maintaining efficiency and responsiveness to constituents' concerns."
That cut would amount to approximately $2,400 each year. 
Mullis has not said whether or not he will address the 'per diem' reimbursements lawmakers collect outside of the legislative session, which often total thousands of dollars each year or whether or not the 14% slash will apply to committee chair stipends, which Mullis receives. In 2010, the AJC reported that Mullis billed the state $34,985.50 for travel expenses and per diem days. The following year, he was the third highest recipient of per diem day reimbursements. Slashing per diem days and committee chair stipends would amount to tens of thousands of dollars in cuts for each lawmaker.
How will General Assembly colleagues respond to a proposed pay cut?
2019's Senate Bill 81, which is not yet considered 'dead' for the legislative term, would also codify the Speaker of the House salary at $135,000, Speaker Pro Tem of the House at $35,908, and the President Pro Tem of the Senate at $35,908, while setting the Lieutenant Governor's salary at $135,000. A constitutional amendment has been proposed alongside the legislation.
Nevertheless, Lieutenant Governor Geoff Duncan announced amid Kemp's calls for slashes to the budget that he would decline 14% of his current $91,000 salary, amounting to a cut of approximately $13,000. 
In late 2017, a report by a committee suggested a pay raise for lawmakers, but no legislation was filed to increase the rate of pay in 2018 – an election year for statewide and legislative seats. The committee, put together by state lawmakers, recommended a 72% increase in salaries for legislators, which is $29,908 – the amount proposed by State Senator Valencia Seay in SB 13. 
State representatives and state senators in Idaho, Louisiana, Maine, Mississippi, Nebraska, Nevada, New Hampshire, North Carolina, North Dakota, Rhode Island, South Carolina, Texas, and Vermont all make less than Georgia legislators.
In early 2017, lawmakers voted to raise the Governor's salary from $139,229 to $175,000. It took effect with the swearing in of Governor Brian Kemp.
Disclosure: The author worked for State Rep. Colton Moore as a policy analyst responsible for analyzing legislation up for consideration in the General Assembly in both 2019 and 2020.