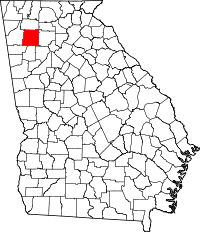 Assistant to the Secretary for Rural Development Joel Baxley recently announced the names of 47 rural communities and regions that will receive technical assistance to help create and implement long-term economic development plans. Among those is Georgia's Bartow County which experienced tornado damage in 2013.

Mission Bartow will use planning assistance to develop businesses and community infrastructure through a partnership with Purdue University and University of Kentucky. It's the only recipient on the list in Georgia.
Each of the 47 communities and regions will be paired with one of four partner organizations that will provide free technical assistance for up to two years to help rural towns and regions create and implement economic development plans. USDA awarded $1.2 million in cooperative agreements to these partners in September 2018. The agreements will help the partners finance the free technical assistance.
"USDA and its partners are bringing local leaders and economic development experts together to create opportunity in some of the nation's most economically challenged rural communities," Baxley said. "Under the leadership of President Trump and Agriculture Secretary Sonny Perdue, USDA is committed to building prosperity in America's rural cities and towns."
The partners are the National Association of Counties Research Foundation, the Rural Community Assistance Partnership, McClure Engineering Company, and Purdue University Extension/Community & Economic Development Initiative of Kentucky.
In April 2017, President Donald J. Trump established the Interagency Task Force on Agriculture and Rural Prosperity to identify legislative, regulatory and policy changes that could promote agriculture and prosperity in rural communities. In January 2018, Secretary Perdue presented the Task Force's findings to President Trump. These findings included 31 recommendations to align the federal government with state, local and tribal governments to take advantage of opportunities that exist in rural America.
Bartow County is located in Northwest Georgia comprised of seven small towns with a regional population of about 103,000.
See the full list below.
RuralEcon_DevelopInnov_CHART0619