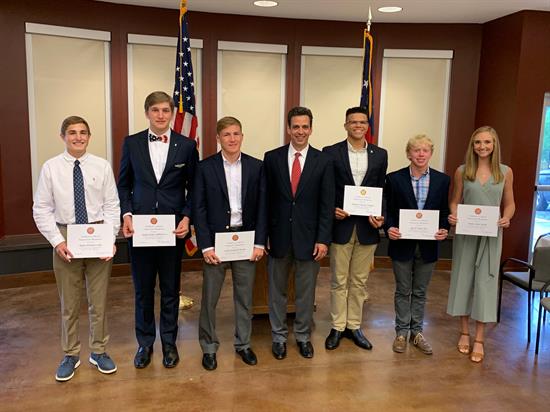 Congressman Tom Graves recently hosted a send-off dinner in Calhoun to honor the students from the 14th Congressional District who were appointed to attend a U.S. military academy.

After being nominated by the congressman from Georgia's 14th district, eight local students were appointed to the U.S. Naval Academy, the U.S. Air Force Academy, the U.S. Merchant Marine Academy, and the U.S. Military Academy.
Held at the University of Georgia's Extension Building in Calhoun, the students heard from the Class of 2019 Service Academy graduates who had previously received nominations from Rep. Graves to attend their respective academies.
"Our servicemen and women are truly some of the best this nation has to offer. Especially as we honor the 75th anniversary of D-Day, it's fitting that these young men and women are taking their first steps to join an elite group who have dedicated their lives in service of our country. It's an honor to have nominated these outstanding students to our Service Academies and I know they have bright and proud futures ahead of them," Graves said in a press release.
As a member of Congress, Rep. Graves is responsible for nominating students to the military academies. The congressman uses an independent board of military advisors to review applications from 14th District students and determine who receives a nomination. Each military academy then chooses which students to appoint out of all the nominations received from across the country. The academies provide a top notch four-year college education in addition to military officer training. The students do not pay for tuition, housing, food, books and other college costs. The students instead commit to active duty military service as an officer for five years following graduation.
The students, their hometown and the academy they were appointed to are listed below:
Ryan Craft, Catoosa County – U.S. Naval Academy
Andy Ledbetter II, Paulding County – U.S. Air Force Academy
Emma Kate Smith, Gordon County – U.S. Air Force Academy
Colton Woods, Polk County – U.S. Air Force Academy
Malachi Wright, Paulding County – U.S. Military Academy
Gavin Nix, Bartow County – U.S. Merchant Marine Academy
Justin Waldman, Paulding County – U.S. Air Force Academy
John Buckley, Henry County – U.S. Merchant Marine Academy