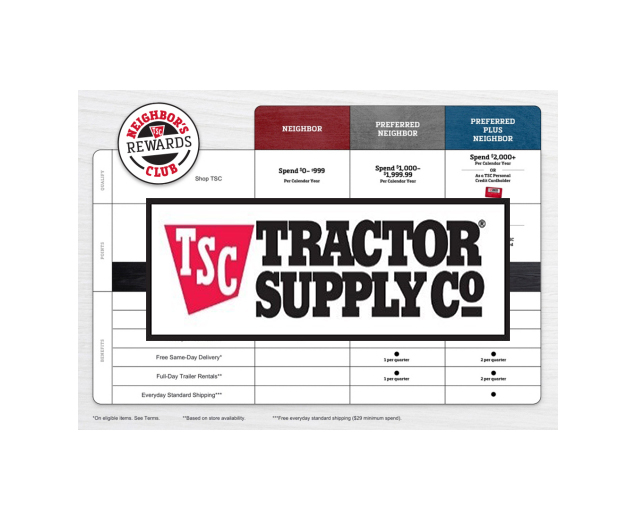 Tractor Supply Company announced that its Neighbor's Club loyalty program has been dramatically reinvented to provide new features and exclusive benefits for all members. The enhanced program, created in response to customer feedback, provides members points for their purchases and membership levels based on their annual spending. With now over 20 million existing Neighbor's Club members, these enhancements are designed to thank its loyal customers, attract and retain new customers and continuously improve the Tractor Supply shopping experience.

"At Tractor Supply, we support a lifestyle and our customers are the heart of our business. We constantly strive to find new and innovative ways to provide them with the best possible experience. The significant upgrade in our Neighbor's Club loyalty program is just one of the ways we can do that," said Christi Korzekwa, Tractor Supply's Senior Vice President, Marketing. "We are excited to offer points and exclusive benefits that are meaningful to customers who live the Out Here lifestyle. These new features will allow us to continue to grow the program and thank our most loyal customers while welcoming in those who are new to Tractor Supply."
New Neighbor's Club Highlights: All membership levels of Neighbor's Club will now earn points for every dollar spent, with members of higher tiers earning points more quickly. Member's points can be used to earn dollars off merchandise or purchase services such as pet washes.
Level

Additional Benefits

Neighbor = 1 point per dollar spent

Birthday gift, exclusive offers and receipt-free returns

Preferred Neighbor = 1.5 points per dollar spent

Free same-day delivery and full-day trailer rental, once each quarter
+ all the benefits of being a Neighbor

Preferred Plus Neighbor = 2 points per dollar spent

Free same-day delivery and full-day trailer rental, twice each quarter
Free everyday standard shipping on qualifying orders
+ all the benefits of being a Neighbor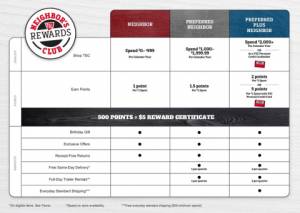 TSC Personal Credit Cardholders will automatically receive Preferred Plus Neighbor status and earn five points per dollar spent when purchasing with their card.
To kick off the new program, Tractor Supply will host a virtual concert experience in May for all Neighbor's Club members. The intimate, live-streamed event, featuring a top entertainer to be announced at a later date, is just one of many "members only" benefits offered to Tractor Supply's most loyal customers.
Current members of Neighbor's Club will automatically be enrolled in the enhanced program. Membership levels will be based on cardholder status or annual spending, with points being awarded with purchases as of April 1. Non-members can join Neighbor's Club for free by signing up in store, online or through the Tractor Supply mobile app. Members can check their member level and point balance by signing in online or with the app.
To learn more about Tractor Supply's Neighbor's Club loyalty program, visit NeighborsClub.com, download the Tractor Supply app or follow along on Tractor Supply's Facebook and Instagram.
---
Source: Tractor Supply