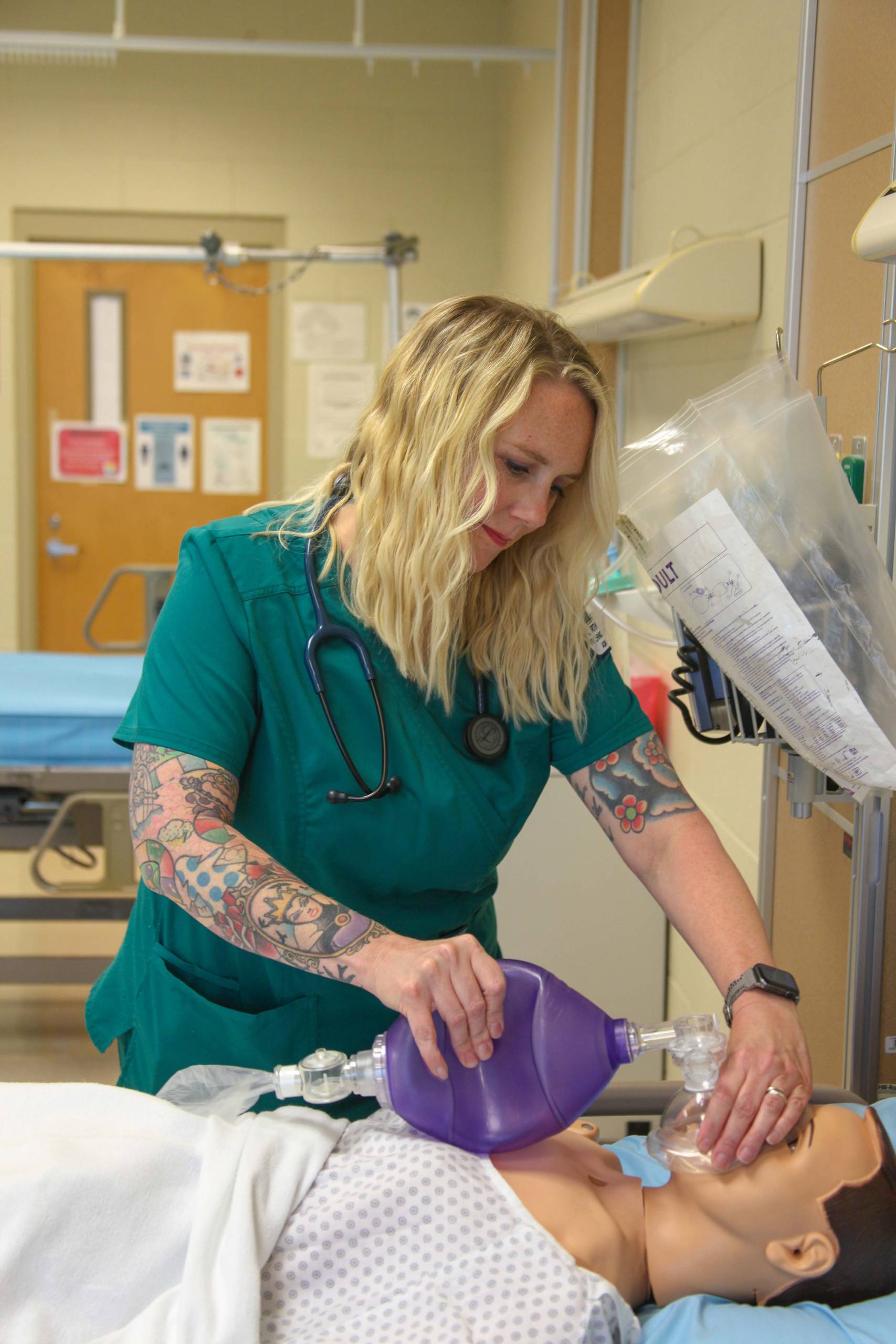 Georgia Northwestern Technical College (GNTC) healthcare students have navigated a global pandemic during the past year. For graduating students like Amanda Blackwell, the rise of COVID-19 has shown her what being a nurse and working in healthcare is all about.
Blackwell was one of 15 GNTC students who volunteered to administer the first dose of COVID-19 vaccines at CHI Memorial Hospital in Chattanooga on January 4.
"I administered dose one of the vaccine at the hospital," Blackwell said. "It was an eye opening experience."
It was her first clinical rotation and first time being face-to-face with patients since the pandemic began. Blackwell administered vaccines to healthcare workers at the hospital as well as adults over the age of 65 who volunteer at the hospital.
"Each student vaccinated over 50 patients," she said. "Memorial made a huge deal out of it and let everyone who got vaccinated ring a bell."
The 40-year-old GNTC student will receive an associate degree in Nursing this month, completing a 22-year journey to become a nurse.
Blackwell said she was attending Dalton State College in 1999 when she found out she was pregnant with her first child.
"My plans to be a nurse had to be put on hold," she said. "I changed course and went to school to be a cosmetologist."
Blackwell rented a space to cut and style hair for 10 years before opening Alchemy Salon in Fort Oglethorpe. When her third child started pre-K, Blackwell enrolled in GNTC's Nursing program.
"Finishing my Nursing degree was always the plan," she said. "I don't think I would have ever forgiven myself if I didn't go back and finish what I started."
Now, Blackwell is working two days a week in the salon and two days a week in Labor and Delivery at Erlanger Health System. After graduation, she plans to work three 12-hour shifts a week at the hospital and one day in the salon.
"One of the benefits of owning your own salon is setting your own hours," she said. "Both of my jobs are about caring for people and I think the two professions go hand-in-hand. At the end of the day we are servants of others."
Lauren Elsberry, instructor of Associate Degree Nursing at GNTC, said her students have remained on the frontline of the COVID-19 pandemic, completing their clinical rotations while also volunteering to administer vaccines.
"Amanda is a phenomenal student who helped administer one of the first vaccines in our area," said Elsberry. "This year was a challenging time for all students, but despite everything Amanda and her classmates really seemed to shine."
For Blackwell, the pandemic showed her the true meaning of being a nurse. She said her instructors were great examples and a tremendous resource to her and her classmates.
"Our instructors made sure they did everything they could to get our program completed on time," Blackwell said. "I really loved being a part of the program."
Georgia Northwestern Technical College's (GNTC) Spring Commencement Ceremony will be held in Rome at the Floyd County Campus as a drive-thru ceremony on Thursday, May 6, at 7 p.m. Spring semester GNTC graduates from all six campuses are invited to attend the ceremony.
Georgia Northwestern Technical College provides quality workforce education to the citizens of northwest Georgia. Students have the opportunity to earn an associate degree, diploma or a certificate in business, health, industrial or public service career paths. This past year, 11,820 people benefited from GNTC's credit and noncredit programs. GNTC has an annual credit enrollment of 8,591 students and an additional enrollment of 3,229 people through adult education, continuing education, business and industry training and Georgia Quick Start. For more information about GNTC, visit us at www.GNTC.edu. GNTC is a unit of the Technical College System of Georgia and an Equal Opportunity Institution.