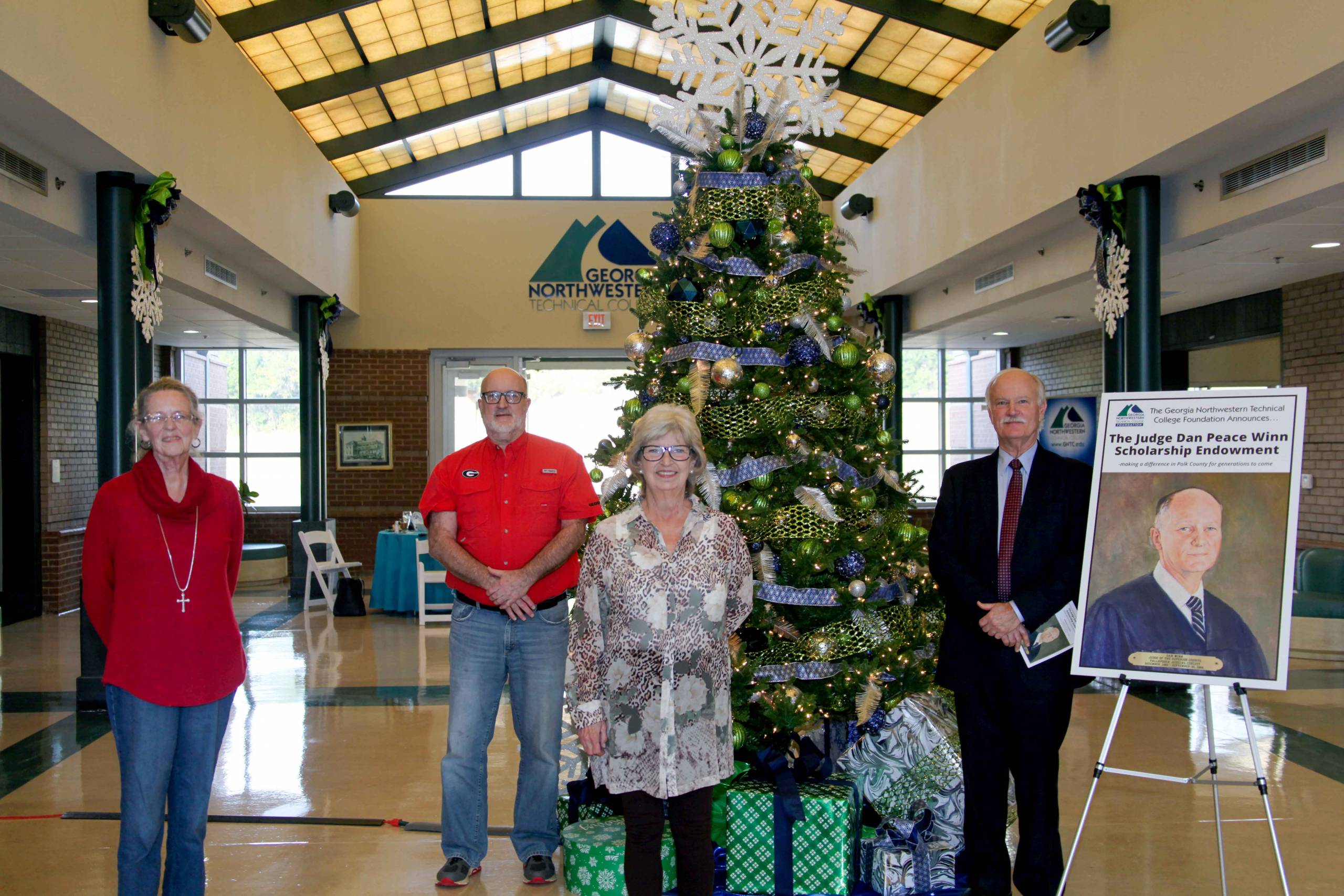 In honor of late Tallapoosa Judicial Circuit Superior Court Judge Dan Peace Winn, Darice Winn Lewis and siblings, Frank, Nick and Nila Winn established an endowment scholarship through the Georgia Northwestern Technical College (GNTC) Foundation as well as a food pantry on the Polk County Campus (PCC) in Rockmart.


"Our dad had a passion for local youth and students," Lewis said. "We wanted to do something to honor our father's legacy and help local students."
This is the third donation the siblings have made in support of local education. Lewis, along with her sister and brothers made donations to Cedartown High School and Rockmart High School in honor of Judge Winn, who passed away on May 10, 2016, at the age of 94.
The PCC food pantry will be available for all GNTC students and will be the third food pantry established on a GNTC campus this year. According to Lauretta Hannon, director of Institutional Advancement at GNTC, students are already signing up to visit the food pantry on the PCC. The endowment scholarship established in Winn's name will earn interest and over time will fund future scholarships for Polk County GNTC students or GNTC students with a strong Polk County connection.
"This is such a special way to keep his legacy going," said Hannon. "We feel such gratitude for this gift which will keep giving for years to come."
GNTC President Dr. Heidi Popham thanked the donors at a small luncheon held in recognition of the Winns at the Polk County Campus on Friday, Dec. 11. She also recognized Lewis, a GNTC faculty member, for her 21 years of service at the college. Lewis served in several faculty roles and was the Polk County Campus manager before retiring and rejoining the college as an adjunct instructor.
"The creation of an endowed scholarship means that students will benefit for generations to come," said Popham. "We are deeply grateful for the generosity of the Winn Family and their commitment to education and Polk County."
Judge Winn entered the military service as a Naval Aviation cadet in November 1942 and graduated as second lieutenant in the U.S. Marine Air Corps. He served during World War II in the Marianas Islands and flew night fighter missions out of Guam. He was awarded the Distinguished Flying Cross and Air Medals.
Winn graduated from Emory University Law School in 1948 and moved to Cedartown a year later where he began practicing law. He served in several elected roles including solicitor for the City Court of Polk County as well as solicitor general for the Tallapoosa Judicial Circuit. In 1966, he began serving as a Superior Court judge and was assigned to the Tallapoosa Judicial Circuit, which includes Polk County. Winn retired in 1988 and became a senior judge for the State of Georgia until his death in 2016.
"He was a real character," said Frank Winn. "My favorite memory of him is actually my first when he was trying to teach me to water ski. He wouldn't let me give up and made me keep practicing until I got it."
Nila Winn described her father as a prankster, who would not hesitate to blame others if his pranks went awry. Her brother Nick said their father hated baseball caps worn indoors and scolded him for wearing one inside a pub during a trip to Ireland.
"People are not gone as long as we speak their names," Hannon told the siblings during the luncheon. "Residents of Polk County are going to be saying the name Judge Dan Peace Winn for a long time to come."
Students who wish to visit one of the three GNTC food pantries must first make an appointment with a campus representative. For the Floyd County Campus, contact Sonya Briscoe, director of Student Populations at sbriscoe@gntc.edu; for the Polk County Campus, reach out to Donna Baldwin, campus manager at dbaldwin@gntc.edu; and for the Whitfield Murray Campus contact Jan Lanier, dean of Student Success and Title IX/Equity coordinator at jlanier@gntc.edu.
Georgia Northwestern Technical College provides quality workforce education to the citizens of Northwest Georgia. Students have the opportunity to earn an associate degree, diploma, or a certificate in business, health, industrial, or public service career paths. This past year, 12,454 people benefited from GNTC's credit and noncredit programs. With an annual credit enrollment of 7,730 students, GNTC is the largest college in Northwest Georgia. GNTC has an additional enrollment of 4,724 people through adult education, continuing education, business and industry training, and Georgia Quick Start. For more information about GNTC, visit us at www.GNTC.edu. GNTC is a unit of the Technical College System of Georgia and an Equal Opportunity Institution.