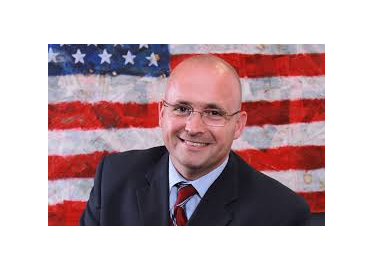 "Barge is 100% Pro-Trump:  Will Work with the President to Drain the Swamp, Secure the Border, Create Jobs"


Former Georgia School Superintendent John Barge recently announced his candidacy for Georgia's 14th Congressional District.
He sent out a press release last week:Former Georgia School Superintendent John Barge recently announced his candidacy for Georgia's 14th Congressional District.
John is 100% pro-Trump and his campaign will focus on his commitment to work with the president to drain the liberal swamp, secure the border, create high-paying jobs, and defend our rural communities and our way of life. He is pro-life, pro-family, pro-Second Amendment and will protect these conservative values for Northwest Georgia.
John is a 30+ year resident of Floyd County. He has lived the epitome of the American Dream. With roots dating back in Georgia to the late 1700's, John's family has lived, worked and worshiped here for nine generations. John's great-great-great-great-grandfather, Lewis Barge, was the second signer of the Liberty Point Resolves, which preceded the Declaration of Independence by one year.
John grew up in a large family. While poor in means, they were rich in hope and possessed a strong work ethic. John became an entrepreneur at the age of nine, starting his own grass-cutting business so he could help pay his own way growing up. That hard work paid off when he earned academic and journalism scholarships to Berry College and became the first generation of his family to graduate college. He achieved all of this despite an alcoholic, abusive father, who passed away while John was in his teens.
John graduated from Berry College in Rome with a bachelor's degree and from the University of West Georgia with both master's and specialist's degrees. He went on to earn a doctorate in educational leadership from the University of Georgia. During his 30-year career in Georgia's public education system, he has served as a high school teacher, assistant principal, principal, district curriculum director, district superintendent, and as the State Director of Career, Technical and Agriculture Education for the Georgia Department of Education.
A lifetime of experience in Georgia's classrooms prepared John to serve Georgia as our State Superintendent of Schools from 2011-2015. His passion for preparing the next generation of Americans to lead and live their best lives in Northwest Georgia has been his life's work. He has served as a champion of our rural schools and fought to make sure our local communities, parents and teachers have control over our children's education – not some bureaucrat in Washington, D.C.
John has faced tough times and tackled difficult problems throughout his life. He has stood up to injustice, fought for our children, and defended his faith in the public square. When Washington tried to tell John how Georgia must evaluate teachers or risk losing funding, John went to Washington and fought and retained both the right to evaluate our teachers on our terms and our money!
John is the only candidate in the race with experience of fighting Washington on behalf of Georgia citizens. Now, he is ready to tackle the biggest problem of them all: Nancy Pelosi's socialist squad in D.C and her liberal allies in the media. John is ready and able to fight for the 14th Congressional District and all of Georgia as our next Congressman.
John has been married to his wife Loraine, a three-time cancer survivor, for 29 years. They have a daughter and son-in-law, Emma and Landon Rikel, who are local business owners in Floyd County and who have helped establish satellite businesses in Gordon and Chattooga Counties. They have three grandchildren, Bryton, Jedidiah, and Grace Loraine (Rainy).