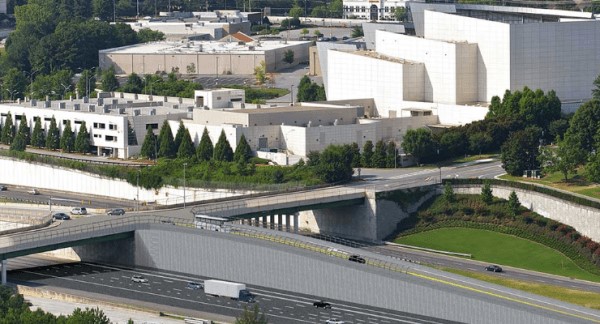 U.S. Department of Transportation Secretary Elaine L. Chao recently announced the newest Infrastructure for Rebuilding America (INFRA) grants. Among them is a proposed $5 million grant for Georgia to help build a ramp at Akers Mill Road for access to the Northwest Corridor Express Lanes on Interstate-75 in Cobb County.
Infrastructure for Rebuilding America is a discretionary grant program for nationally significant freight and highway projects. USDOT announced proposed INFRA grants totaling over $855 million in Fiscal Year 2019 funds for 20 projects in states throughout the country. Last year, Georgia received a $184 million INFRA grant—the single largest in the nation—for the State Route 400 Express Lanes project from the North Springs MARTA Station in Fulton County to McFarland Parkway in Forsyth County.
"We are grateful that Secretary Chao, her staff and the federal government have identified this regional Georgia project as having a national priority," said Georgia DOT Commissioner Russell R. McMurry, P.E., who was invited by USDOT to participate and provide comments at today's INFRA announcement event. "The $44 million project is funded by local, county and state partners. Now our federal partners have provided the final piece of the funding puzzle for construction of the ramp at Akers Mill."
McMurry also acknowledged the efforts of the Cumberland Community Improvement District (CID) and Georgia's congressional delegation—including U.S. Rep. Barry Loudermilk, U.S. Sen. Johnny Isakson and U.S. Sen. David Perdue—for helping to make the project a reality.
The ramp project, which constructs a reversible ramp for direct access from Akers Mill Road to the I-75 Northwest Corridor Managed Lanes system, generates regional mobility and travel time savings by allowing motorists to bypass local roads; supports economic vitality by facilitating more efficient movement of goods and people through a critical arterial; and enhances safety for motorists.
The Northwest Corridor, which has seen more than six million trips since its opening in September 2018, is the largest transportation project of its kind in Georgia history and perhaps the most innovative express lanes corridor in the country. During peak travel times travel speeds in the reversible express lanes average 30 percent faster than the general purpose lanes. As a result, both the morning and evening rush hours on the NWC have been reduced by over one hour, benefiting both express lanes users and drivers in the general purpose lanes.
Construction of the ramp at Akers Mill Road will likely start in 2021 with completion anticipated in 2023.