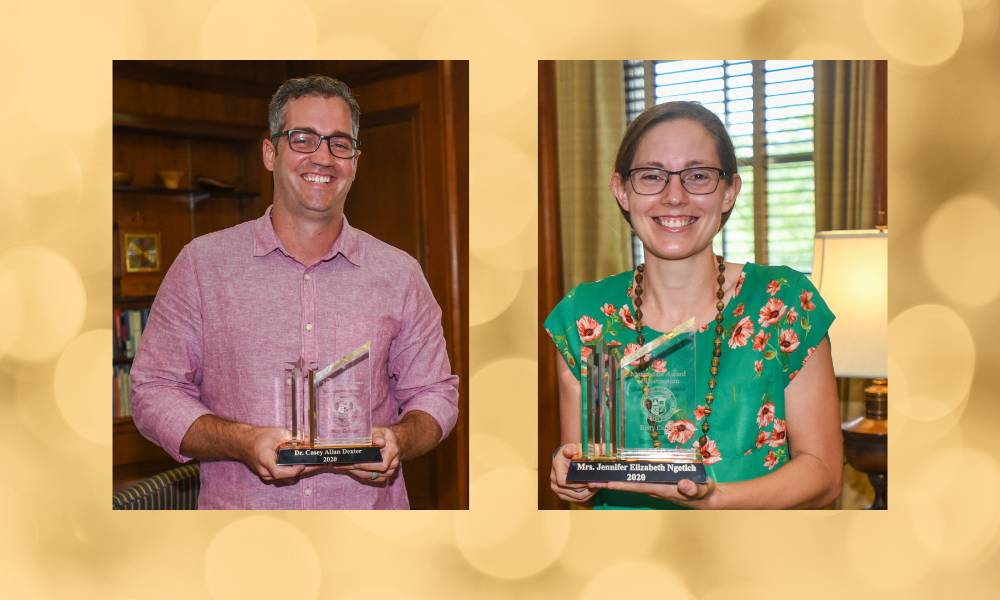 Berry College has awarded two employees the 2020 Martindale Award, the highest faculty/staff award at Berry College.
Casey Dexter, associate professor of psychology and director of the Center for Teaching Excellence and Jennifer Ngetich, Enterprise Systems web support specialist, received the award.  
In this past year, Dexter not only became the director of the Center for Teaching Excellence, but also began serving as co-chair of the Academic Affairs Reopening Committee. According to his peers, he has been an optimistic and creative aid to faculty in teaching well in unprecedented ways. 
"Without reservation, his efforts have bolstered faculty's ability to deliver their courses, encouraged a willingness to be innovated, educated faculty about important issues pertaining to higher education, and made faculty more aware of the many resources that can support their professional development, regardless of their career status," one peer stated. 
Ngetich played a prominent role in helping Berry transition to remote learning last spring. Before the pandemic even hit, Ngetich created the plan to transition to Canvas and aided faculty in moving their courses to the new platform.  
"She was quick to act, worked tirelessly, and with great patience.  …The transition to remote learning would have been a nightmare without her leadership, coupled with a willingness to put in long hours to ensure things were ready at start-up and continued seamlessly," another peer stated.  
The Martindale Awards of Distinction were endowed by alumna Susan Byrd Martindale and her husband, Larry, to recognize and reward members of the Berry community who promote continuous improvement, implement innovative approaches, and inspire others to extraordinary achievement. Faculty and staff are nominated by their peers across Berry's campus via letters of recommendation.