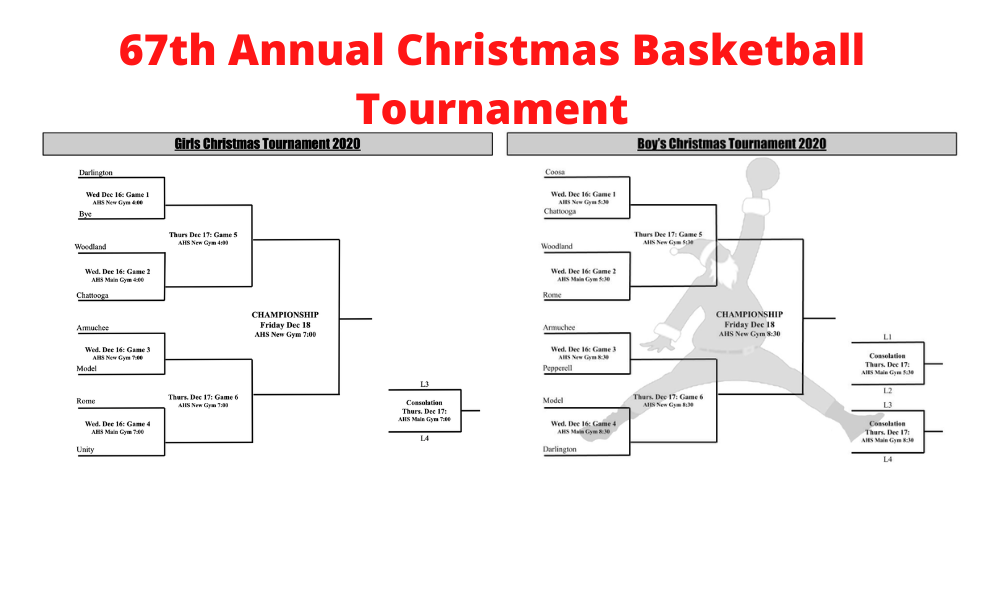 The Seven Hills Rotary Club of Rome will host the 67th Annual Christmas Basketball Tournament December 16-18, 2020, at Armuchee High School in both their "Main Gym" and "New Gym". Please follow the information below to help keep all participants and spectators safe:
The Seven Hills Rotary Club of Rome is limiting spectators to 25% occupancy for each game. Tickets will be for sale at the door on a first come first serve basis; cash only. Admission is $6. Concessions will be available in both gyms.
Temperature checks and masks/face coverings will be required for entry into both facilities, and social distancing in the stands is expected. Anyone who does not have a mask can purchase one for $1.
Each gym will be fully cleared of participants and spectators after each game. Handstamps will be available so that if there is still capacity after the next game's crowd comes in, reentry will be possible at no extra charge.
Due to limited capacity, gate revenue for the tournament will be impacted significantly, which means less money for the organizations the tournament supports. To offset this, the Seven Hills Rotary Club of Rome is asking livestream spectators (and anyone else who is willing) to consider donating to this year's tournament through the Venmo Mobile App by searching @SevenHills-RotaryClub. The livestream is free to watch, but donations are greatly appreciated.
The livestream can be viewed on the Rome Rotary Christmas Tournament youtube channel.
LINK: https://www.youtube.com/channel/UCNxG0jgaN4qprN5RdSS1aVA