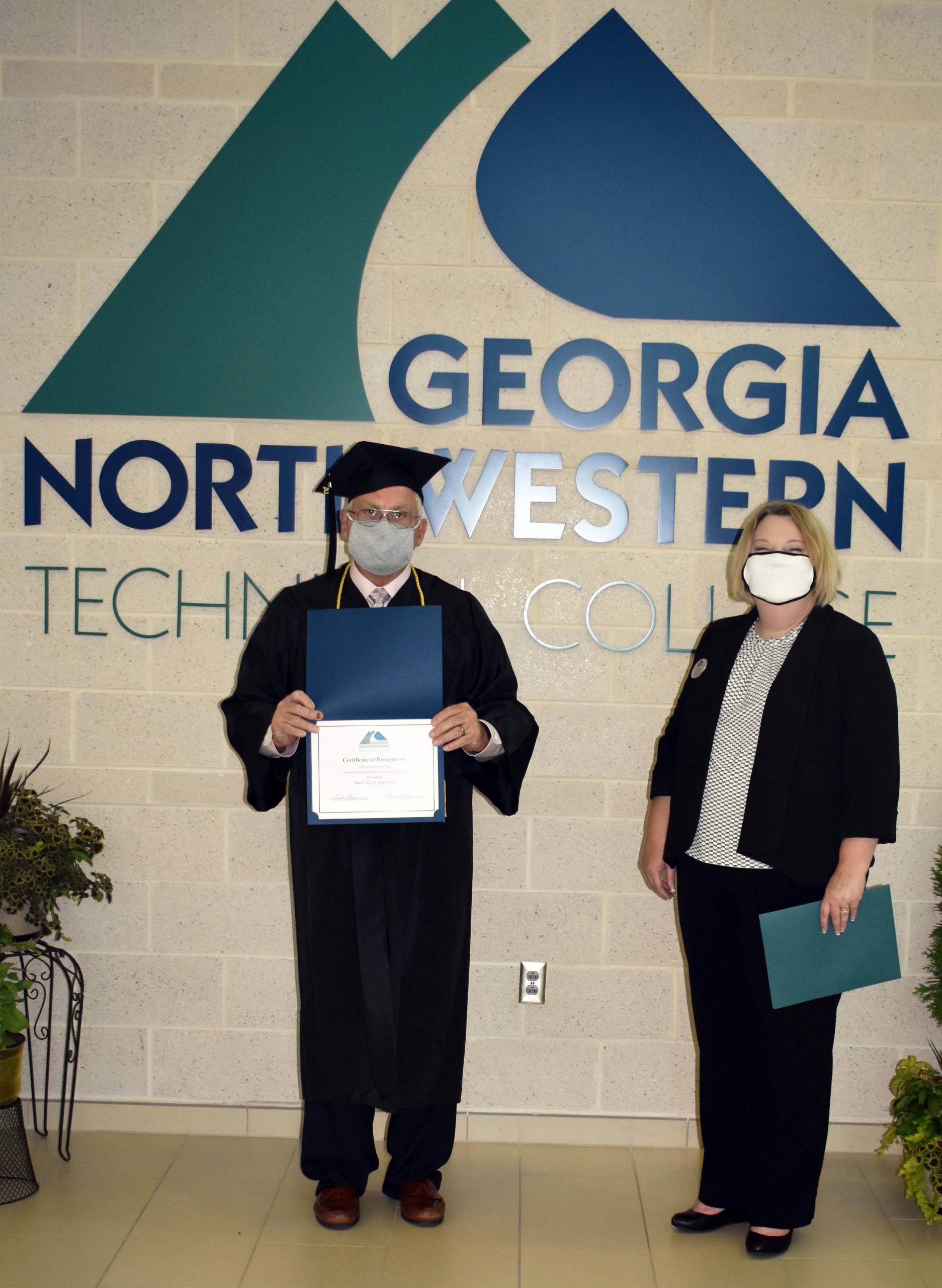 Two months before his 67th birthday, Jim Gunter received his GED® diploma during Georgia Northwestern Technical College's (GNTC) Adult Education graduation celebration at the Catoosa County Campus.
The event marked a 48-year-long accomplishment for Gunter, which was made possible by the support of his family and employer. His road to graduation started in 1971 when he left home two weeks before his 18th birthday due to an abusive situation. As a result, he did not receive a high school diploma.
"I always meant to go back and get it, but something always came up," Gunter said. "It's something that I always held over my head. In the back of my mind I would hear, 'you're a failure, you couldn't even do that.'"
In 1975, he made the move from Texas to Tennessee and settled in Chattanooga. After failing to land a few jobs due to a lack of education requirements, Gunter tried enrolling in higher education.
"I was of course turned away when they found out I didn't have a high school diploma or GED® diploma," he said. "The way they responded when I told them was like a slap in the face. I didn't know I needed one to enroll."
Fast forward to 2019, Gunter is employed with the Chattanooga based company Bolts & Nuts Corporation. During a conversation with his boss, Gunter found out his company was considering a program that would allow employees to earn their GED® diploma.
"I jumped at the opportunity," said Gunter. "I got in contact with GNTC's Adult Education program and started classes at The Shirley Smith Learning Center in Catoosa County."
Executive Chairman of Bolts & Nuts Corporation, Dave Hadani, came up with the new employment benefit and agreed to let Gunter be the first one to participate. The initiative, now offered company wide, allows employees to immediately start working to earn their GED® diploma.
"They were really great to me through all of this," said Gunter. "Dave was almost as excited as I was when I passed my last exam. He told me once it was safe we were going to have a workplace celebration."
According to Hadani, the benefit is available to any full-time employee who has been with the company for at least one year. In recognition of the difficulty working full-time brings to continuing education, the company will pay employees compensation time up to 20 hours for studying, going to class, taking tests and other school related activities.
"We understand there are state and local funds to help cover costs for books, tuition and tests, but we will work with each employee to cover additional costs there may be so this is not a burden and we can help with this important journey," Hadani said. "We believe that education is crucial not just for our company, but our communities and this great country we live in."
Even if it is a personal goal, it is worth going after, said Gunter. The 66-year-old described an emotional burden being lifted once he got word he had passed the program.
"Anyone in a similar situation, regardless of age will have a feeling of satisfaction after they graduate," he said. "If I can do it, I am pretty sure anyone can."
During the first two weeks of August, graduates of GNTC's Adult Education High School Equivalency program received their GED® diploma with several students obtaining additional honors and certifications.
According to Lisa Shaw, GNTC vice president of Adult Education, among the graduates of this year's Adult Education class, Felicia Reyes of Dalton, is now a Certified Logistics Associate. Shaw said the certification was made possible through a collaboration with GNTC's Logistics and Supply Chain Management program. The credential will give Reyes a head start when she begins classes at GNTC said Shaw.
"This is the first time we have tried this," she said. "We are trying to introduce stackable credentials in order to encourage students to continue their education."
Several graduates wore red and gold cords for the celebration, visual representation of their academic accomplishments in the program. The red cords were worn by students who scored 165 points or higher on any portion of the GED® diploma test and gold cords were worn by members of the National Adult Education Honor Society. All GNTC Adult Education graduates are college or workforce ready, said Shaw.
Adult Education graduation celebrations were also held at GNTC's Gordon County and Whitfield Murray campuses.
The Adult Education program offers instruction in Adult Learning Centers throughout its nine county service area.