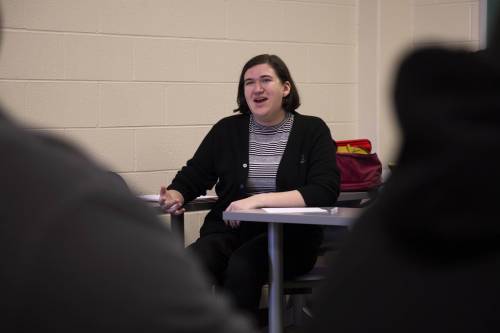 By Sarah Powell
---
Nearly 60 students from six high schools across the state gathered in the University of West Georgia's Pafford Building recently to compete in the Second Annual West Georgia High School Ethics Bowl.
"Ethics bowls promote ethical awareness in students by introducing them to real life and timely moral issues, encouraging them to develop reflectively sound moral responses," said Dr. Walter Riker, the organizer of the event and associate professor of philosophy within the College of Arts and Humanities at UWG.
By engaging students in intensive ethical discussion, the ethics bowl supports constructive dialogue and furthers the next generation's ability to make ethical decisions. According to the National High School Ethics Bowl's mission statement, the event's collaborative model rewards students for the depth of their thought, their ability to think carefully and analytically about complex issues, and the respect they show to the diverse perspectives of their peers.
Eight teams participated in matches throughout the day. During the matches, the teams were presented with cases that posed an ethical dilemma accompanied by a question. Unlike debate, student teams were not assigned opposing positions, but instead defended the position they found morally best on reflection. This year's topics included ethical discussions of forced chemotherapy and teacher strikes.
Using a point system, the panel of judges decided the winner of each match. Teams earned points based on the clarity and systematic nature of the solution they presented, how thoroughly they identified and discussed key moral features of the problems, and thoughtful consideration of different viewpoints. Additional points were earned based on how well the teams responded to the specific case presented by the other team, how their response furthered the conversation and how civil they were in response.
After four rounds, the top two teams competed in a final match to determine a winner. Decatur High School Team One won first place, followed by Decatur High School Team Two in second place and Warner Robins High School in third place. Additionally, a spirit award—based on respect, thoughtfulness and sportsmanship—is voted on by the participants. This year, both Heard County High School Team Two and New Manchester High School won the spirit award.
"We have really enjoyed being a part of this event," said Sandy Creek High School coach and social studies teacher, William Harris. "It promotes critical thinking and allows the students to see college life by being hosted on UWG's campus."
The event drew nearly 30 volunteers from the community.
"I was impressed by the ability and civility of the students," said Richard Diment, an alumnus of then-West Georgia College and Carrollton attorney. "They are discussing very interesting, intellectually-challenging issues in a very refined way."
Riker looks forward to hosting the event again in the future.
"Ethics bowls are a great way for students to gain skills in critical thinking and civil discussion," he concluded. "We want to keep encouraging the development of those skills."