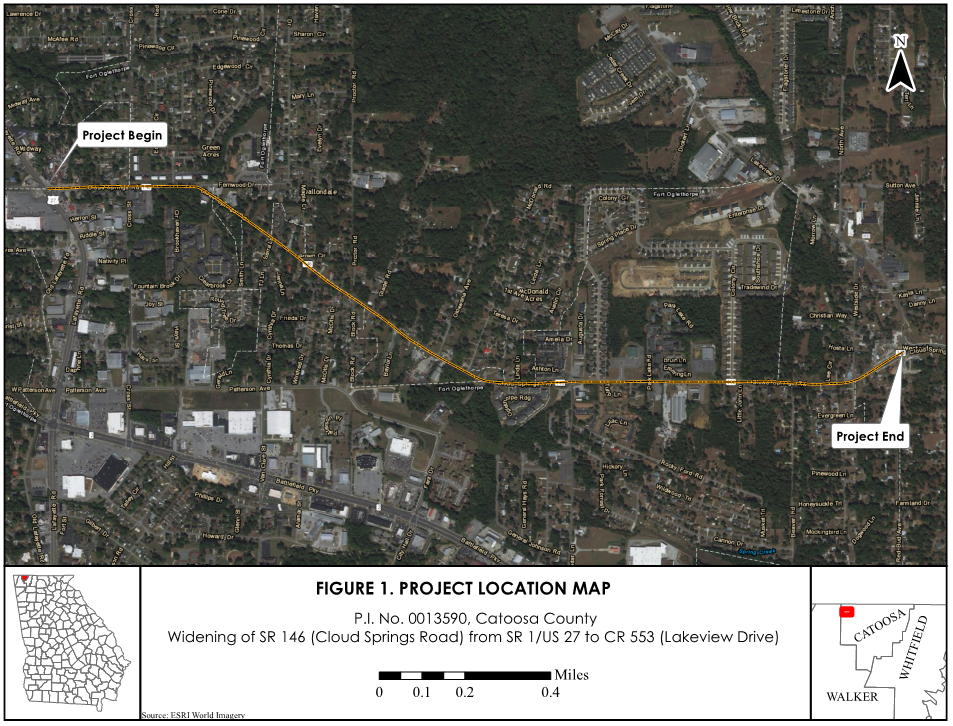 A public information open house to discuss the proposed project to improve operation and reduce crashes on State Route (SR) 146 in Catoosa County is scheduled for Tuesday, June 18, 2019 from 4 until 7 p.m. The meeting will be held at the Colonnade Civic Center, located at 264 Catoosa Circle in the city of Ringgold, Georgia.
Catoosa County's residents interested in learning more about the proposed project are encouraged to attend the meeting and express their thoughts and preferences.
"We would like to hear the viewpoints and preferences of all area residents," says Grant Waldrop, district engineer at the Georgia DOT office in White.
The proposed plans call for widening and improving SR 146/Cloud Springs Road from SR 1/US 27 east to Lakeview Drive for a distance of approximately 2.2 miles.  The existing two lane roadway will be reconstructed to provide turn lanes and sidewalks.  A center raised median with periodic breaks to allow for left turns is proposed to divide travel lanes from Fant Drive to Lakeview Drive. Roundabouts are proposed at Cross Street and Fant Drive intersections with SR 146.
"The Georgia DOT strongly believes that since the proposed project is intended to serve the people of Catoosa County, the ideas and preferences of these people are important and can make a difference in our planning process," Waldrop explains.  "This meeting will provide the public with an opportunity to review the proposed project, ask questions, and express their preferences."
The Open House will be informal and the public is invited to attend anytime between 4 and 7 p.m.  The meeting site is accessible to persons with disabilities.  Accommodations for people with disabilities can be arranged with advance notice by calling Joseph Ciavarro at 678-721-5164.
Written statements will be accepted concerning this project until Tuesday, July 2, 2019. Written statements may be submitted to:
Mr. Eric Duff, State Environmental Administrator
Georgia Department of Transportation
Office of Environmental Services
600 West Peachtree Street, NW – 16th Floor
Atlanta, Georgia 30308