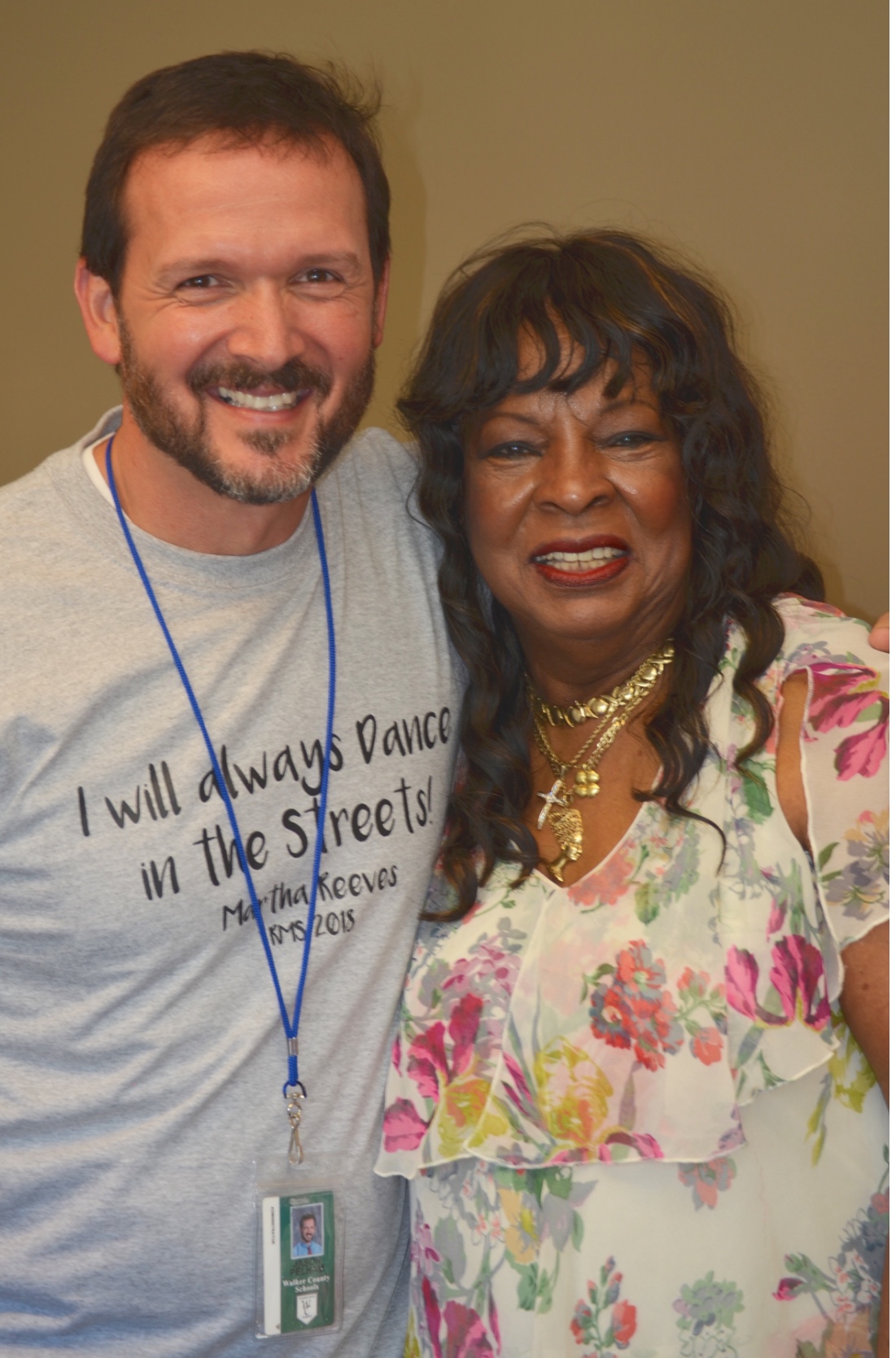 Rossville Middle School in Walker County, Georgia welcomed Rock n' Roll Hall of Fame Member, Broadway Performer, Author, former Detroit city Council Member, and Motown Recording Artist, Martha Reeves, lead singer of Martha Reeves and the Vandellas, as a guestspeaker on Friday afternoon. Ms. Reeves took time to come to Rossville Middle the day before her two shows in Chattanooga on Saturday, May 12th, and captivated the crowd of students, staff and administrators.
Students prepared for Ms. Reeves' visit by completing a lesson plan from the Rock n' Roll Hall of Fame's Digital Classroom. They listened to her music, learned about the "Motown Sound", and researched her career, including touring and playing venues during the Civil Rights Movement. The halls were decorated with Martha and the Vandellas' album covers, appearance photos and magazine cover posters. T-shirts were printed with quotes from Ms. Reeves, and worn by teachers and staff.
Two students were selected to moderate and ask questions prepared prior. Ms. Reeves and the moderators also selected members of the student body to ask questions they had for the Music Icon.
Ms. Reeves danced into the Rossville Middle School gym to her music, being played and enjoyed by the entire student body. She spoke about her childhood, how her career with Motown started, and touring with Motown Legends like, Stevie Wonder, The Temptations, and Smokey Robinson. She delivered an uplifting message of encouragement to the students at Rossville Middle School. "You have to love and respect yourself ", she said. She also told students to walk with their head held high and let them know the importance of how they carry and present themselves. Ms. Reeves encouraged students that enjoy singing to continue and invited students to come to floor todance and sing with her.
Ms. Reeves exemplifies hard work, determination and perseverance. She gained a whole new group of fans on Friday and Rossville Middle School was honored to have her as a guest.