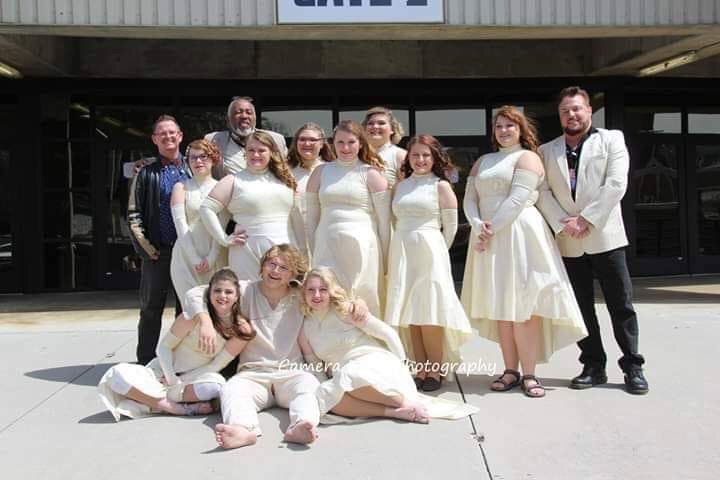 Winter of 2019! What a beautiful and heart felt journey that the Lafayette High School Visual Ensemble has travel as early as the spring of 2018. . Mr. Undra C. Finley, now going into his forty year as a Color Guard Director chose his show concept from the Emmy nominated FX show POSE which featured a Diana Ross' classic song from "The Wiz" titled "Home!"
Then in September the Creative Staff Mr. Robert Robinson, Visual Consultant Mr. Larry Bostick, Movement Caption Head and
Mr. Finley began mapping drill, equipment, movement and general effect high points in our show. In a design process in many guard shows you may come up with one concept but it may take different turns or as we like to call it phases to get it where we actually where we wanted it to be.
On January 19, 2019, we attended our first competition at the SAPA LFO here in our local area. We called that our Phase 1 show.
It was basically put together in 2 weeks, and we didn't want to pull out basically, because we needed to support our local groups. So after this performance, we threw that show completely away and went back to the drawing board!
At this time we were so fortunate to add to our creative team Mrs. Amber Dean as our Flag Caption Head and Mr. Nick Doyle as our Weapon Caption Head! Now we take Phase 2 and 3 to Competition # Two to East Coweta High School, where the guard's score increased 15 points. We were so proud of the kids and our accomplishments.
Time for Phase Three! We enhance the equipment work and did a lot of cleaning and by the grace of God our new costumes arrived before we travel to Kell High School in Marietta. Now with the heavenly sky floor, sky back drops and costumes the show had changed tremendously. Enough that our score increased 8 points!!! The crowd appreciation was so overwhelming! And the kids were literally on cloud nine
March 26, 2019, arrives and we have arrived at the last regular SAPA season show at Mill Creek High School! The LaFayette High School Visual Ensemble Phase 4 and 5 are revealed. The Creative Staff had been holding to one more trick up their sleeve so to speak. The title of our show was "Fly Home, Our Angel!" Our performers were actually like angels watching over us, but there was one person who was about to transition to heaven but you didn't quite know who it was. So our show was designed around our highest ranking angel, Seraphina, Ms. Heather Mitchell. She was highlighted with some great saber moments throughout the show! To enhance our rifle line we added on the final visual element of our production. Before the rifles were to release their rifles there were four ribbons that rotated behind them. The first gold ribbon stood for children dying from childhood cancer. The second pink ribbon was for people dying from breast cancer. The third purple ribbon was for recognizing those died from suicide and the final red ribbon was those who had died from HIV/AIDS! Somewhere in the audience we all made one or more connections on how we lose our love ones in our lives.
This was a very mature show for a high school group in a Scholastic Regional A Group to perform and have such a powerful storyline! A very good friend of the LHS Visual Ensemble Mr. Marshelly McGhee, Guard Director of Riverwood Christian International Winter Guard said, "He was glad to see guards go back to telling true stories about life and not try to be too abstract and too hard for the people to understand!
Last performance of the season SAPA Championships 2019! Again in its thirteenth year at the UTC McKenzie Arena! This performance is the best we have had all season. The crowd who had seen all the changes just came up and told me all day how much they loved the show and loved the kid's performance! We actually had kids come off the floor crying. It was a spiritual journey for us we watched the angels Raphael, angel of Healing, Jon Farmer and Angelica, Maddy Hall, make her transformation up the staircase and actually float away into the black curtains in the arena! It really reminded me of everything I was taught as 5 year old as I learned about the anointing on my life.
This was a growing, training and evolving season for the staff and students of the La Fayette High School Visual Ensemble. 2019 LHS Visual Ensemble Commanding Officers were Heather Mitchell, Jon Farmer and Alee Kimbell. Performers: Heather Mitchell, Jon Farmer, Alee Kimbell, Kirsten Helton, Maddy Hall, Cassidy Haskett, Erina Lynch, Maddie Thomas, Sara Kate Suits and Maleigha Pharr. Much gratitude to our amazing staff: Mr. Undra C. Finley, Director, Mr. Brandon Self, Director, Mr. Robert Robinson, Mr. Larry Bostick, Mrs. Amber Dean and Mr. Nick Doyle. Our Support Staff: Mrs. Kelia Kimbell – Guard Sponsor, Carla Love – Photographer and Ms. Denise Keef – Videographer. Thanks to our amazing Prop Crew: Mr. Doug Kimbell, Mr. Terry Helton, Jr., Mr. Doug Haskett, Bryson Spears, Kelly Suits and Hailey Pendergraft. Special Parents/Volunteers: Mrs. Angela Mitchell, Mrs. Crystal Haskett, Ms. Brandy Davis, Mrs. Missy Thomas and Mrs. Amanda Helton
Sincere thanks to President Jennifer Sears and the LaFayette Rambler Band Boosters, Principal Mr. Tracy Hubbert and Superintendent Mr. Damon Raines. Hats off to our many sponsors and contributors Tim Burton and Gene Greer, Music Editors, anonymous donors, family and friend!
In closing I would like to dedicate our 2019 show production "Fly Home, Our Angel!" to a former Chattooga High School Visual Ensemble member who died a week ago Mrs. Darlia Minard! Darlia marched for 3 years under my leadership and has been a part of my life every since. She made me laugh, cry, yelled at me, whispered she loved to me a million times, held my hand when I was going through a very sad time in my life and reminded me I had her, my students and foremost we had God together! I will never forget those words! So to my crazy, loving, funny witty lil girl forever "Fly Home, My Angel! The LaFayette High School Visual will see you all again in 2020 we pray!
Undra C. Finley, Contributing Writer