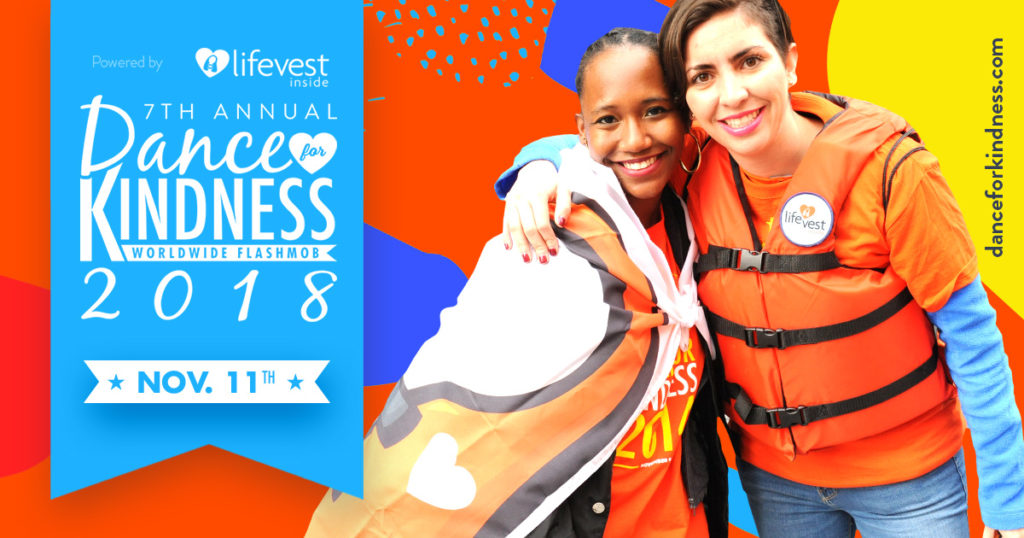 The Dance for Kindness, a WorldWide event, is coming to Rossville on Sunday, Nov 11th!
Dance for Kindness
is a WorldWide FlashMob in honor of World Kindness Day, orchestrated by
Life Vest Inside
, a non-profit organization that inspires, empowers and educates people of all backgrounds to lead a life of kindness.
Last year's event was a HUGE success and took place in over 120 cities, spanning across 50 countries with over 20,000 Global participants. Click
HERE
to see the DFK2017 montage video.
Rossville is the only city in Georgia hosting the event!
This is a public event and anyone can participate! Individuals, groups, or businesses can help spread the word, form a Flash mob dance team of their own, or volunteer to help with tasks on the day of the event. We are hoping to have a team of dancers from each Walker county school.
Here are some details:
Dance for Kindness-
Fundraiser for LVI
Life Vest Inside
World-wide event to kick off World Kindness Week 10% from our regional event will come back to WCS counselors to use for kindness initiatives.
Fundraising Team page:
Volunteer sign-up link:
Please help spread the word!  If anyone wants to participate, they can register at 
www.danceforkindness.com
 and select the USA, Georgia, Rossville location.  It's only $10 to register.
Participants will get a personal email and a link to learn the dance at home.  "We'll schedule a community rehearsal a week or so before the event," Mitzi Davenport Walker County School Counselor said.
Life Vest Inside, a grassroots non-profit organization on a mission to inspire, empower and educate people of all backgrounds to lead a life of kindness, is organizing its 7th Annual Worldwide Dance for Kindness Event on November 11th, 2018 as part of the global celebrations that take place during World Kindness Day. This event will mark the launch of World Kindness Week, promoting kindness, compassion and empathy. On November 11th, countries from around the globe will unite to dance under the banner of kindness.
One day, One dance, One heart!
"To some, the world is filled with war, hatred, violence and hopelessness but we firmly believe that we have the power to fill this world with kindness, trust, hope and love" (Founder Orly Wahba).
The purpose of World Kindness Day is to look beyond ourselves, beyond the boundaries of our country, beyond our culture, our race, our religion; and realize we are citizens of the world.
"Never doubt that a small group of committed people can change the world, indeed, it is the only thing that ever has" ~Margaret Mead
Life Vest Inside has taken the words of Margaret Mead to the next level reminding people that a small group of committed DANCERS can change the world as well!
If you would like more information about Life Vest Inside or the Worldwide Dance for Kindness, please visit:
www.danceforkindness.com
7th Annual Worldwide Dance for Kindness Event
LOCATION: Rossville Athletic Center (Rossville, Georgia)
3:00 PM – November 11, 2018
For more information contact:
Mitzi Davenport
LaFayette Middle P: 706-638-6440
Saddle Ridge      P: 706-375-1219