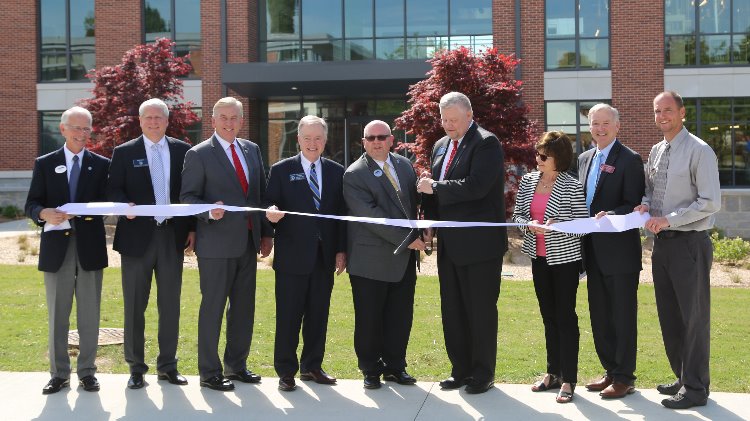 North Georgia Technical College celebrated the grand opening of the new Industrial Technology Center on the Clarkesville Campus with a ribbon cutting ceremony for the community on April 24. 
The new $15 million, 45,000 square foot center houses NGTC's Heating and Air Conditioning Program, CNC/Machine Tool Program as well as economic development, continuing education, existing business and industry training, a catering kitchen, and an event center conference room that seats approximately 240 people banquet style.   
Students from the Heating and Air Conditioning and the CNC/Machine Tool Programs, alumni, faculty, staff and members of the community attended the ribbon cutting. Also in attendance were Rep. Terry Rogers, Sen. John Wilkinson, Rep. Chris Erwin and staff from the Technical College System of Georgia including Commissioner Matt Arthur.   
"North Georgia Technical College continues to do an excellent job preparing students for the workforce and meeting the needs of business and industry in the region," said TCSG Commissioner, Matt Arthur. "This new Industrial Technology Center is an example of our commitment to teach students practical skills in state-of-the-art facilities that will lead directly to a rewarding career."   
"We are so proud of this new building," said President Dr. Mark Ivester. "This building and this college is here for you – the community – because it is yours. Everything we do to train our students is centered around developing our workforce to make our community, our region, our state more prepared to meet the job needs of today and tomorrow."   
After the ceremony, attendees were invited to tour the Industrial Technology Center and get a first-hand look at the state-of-the-art program labs, training center, event space and amenities. 
The building broke ground in April of 2017, and after the demolition of the existing building, Porter Yearwood, construction began later that year.  
This is a press release from North Georgia Technical College.