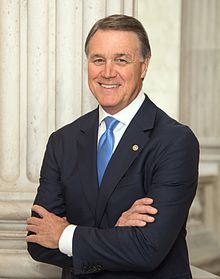 U.S. Senator David Perdue (R-GA) made the following statement in support of Judge Brett Kavanaugh to serve on the United States Supreme Court, following the Senate Judiciary Committee's vote to move the nomination to the Senate floor:
"Any objective observer would agree that Chairman Grassley generously afforded both Dr. Ford and Judge Kavanaugh an equal opportunity to speak before the Senate Judiciary Committee and the American people. In yesterday's hearing, we heard directly from both Dr. Ford and Judge Kavanaugh.
"Here is what we know:
"No corroborating evidence has been presented to support these accusations. Judge Kavanaugh has been consistent and categorical in his denial. While Dr. Ford identified three witnesses, each of these witnesses stated under penalty of perjury that the events did not occur, which further corroborates Judge Kavanaugh's testimony.
"While Democrats continue to clamor for further FBI investigation, let's look at what happened. To date, Judge Kavanaugh has been thoroughly investigated by the FBI six times, which is more than any other Supreme Court nominee in history. If Senate Democrats really wanted to get at the truth, they would have immediately provided the information that only they received to the FBI and the Judiciary Committee. Instead, Senator Feinstein held onto Dr. Ford's letter for six weeks before it was leaked to the press.
"When Chairman Grassley learned of Dr. Ford's letter in the media, he quickly instituted a full committee investigation. Since then, the Democratic members of the committee chose not to participate. It is clear that Senate Democrats' demands for an FBI investigation are nothing more than an orchestrated effort to cause a delay and push this decision past the election in November.
"Shame on the United States Senate if it puts political interest before its constitutional responsibility. In America, the presumption of innocence until proven guilty is a cornerstone of our democracy. That's at the heart of what makes our country exceptional. Now that the committee has voted to move this nomination forward, it is time to take a vote before the full Senate. It is time to put the Democrats' partisan delays behind us. It is time to confirm Judge Brett Kavanaugh to the United States Supreme Court."