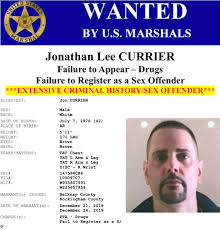 The shutdown of the Federal government notwithstanding, the U.S. Marshal's – NH Joint Fugitive Task Force continues to thrive in 2019. This week's "Fugitive of the Week," Jonathan Lee Currier, 42, was located and arrested today by the Marshals Fugitive Task Force in Belmont, NH. Currier was being sought on multiple arrest warrants, had an extensive criminal history and was an unregistered sex offender.
Currier had just been featured as 2019's first "Fugitive of the Week," this past Wednesday. This feature was aired on WTPL-FM, WMUR-TV, The Union Leader, The Nashua Telegraph, The Patch, Foster's Daily Democrat, Manchester Information, the Manchester Ink Link, The Rochester Voice and prominently featured on the internet. The "Fugitive of the Week" has been a very successful tool that has resulted in the location and arrest of numerous fugitives since its implementation in 2007. Additionally, the "Fugitive of the Week" is distributed statewide to all law enforcement officers.
At the time of Currier's feature, he was being sought on a Belknap County arrest warrant for failing to appear on a drug offense, as well as a Rockingham County arrest warrant for failing to register as a sex offender. Shortly after being featured, it was learned that Currier had a third arrest warrant issued by Hillsborough County for failing to appear on a drug offense and disorderly conduct. The task force made the arrest of Currier a high priority and investigators were able to develop information that led them to a residence on Rogers Street in Belmont, NH, where Currier was arrested without incident this morning.
Mr. Currier was transported to the Belknap County Jail, where he will be processed and held on his outstanding arrest warrants. Currier will need to appear in the courthouse for each respective county that holds a warrant until he gets all of these legal matters resolved.
This arrest was made by the combined efforts of the U.S. Marshal's – NH Joint Fugitive Task Force which was made up of investigators from the Belknap, Hillsborough, Rockingham & Strafford County Sheriff's Offices, the Federal Protective Service and deputy U.S. Marshals.
Since the inception of the New Hampshire Joint Fugitive Task Force in 2002, these partnerships have resulted in over 7,475 arrests (Updated as of 12/10/2018). These arrests have ranged in seriousness from murder, assault, unregistered sex offenders, probation and parole violations and numerous other serious offenses. Nationally the United States Marshals Service fugitive programs are carried out with local law enforcement in 94 district offices, 85 local fugitive task forces, 8 regional task forces, as well as a growing network of offices in foreign countries.
information from the U.S. Marshal's ServiceI