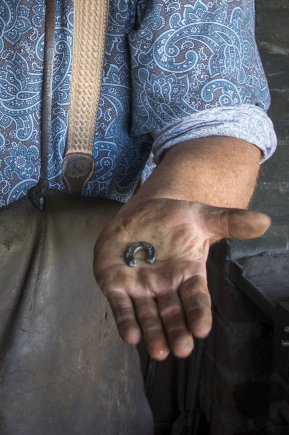 Randy Dack still remembers every detail from that fateful day.
What he was doing. Where he was standing. Where the messenger stood when he came to tell him the news.
For Randy, the blacksmith at Grand Island Stuhr Museum in Nebraska, the terrorist attacks of Sept. 11, 2001 are forever burned into memory.
"Ralph Gill came down to the shop and he said, 'They just hit the World Trade Center,'" Randy said.
As terrible as the attacks were, Randy admits that his most immediate thoughts went to his son who had recently joined the Nebraska Army National Guard.
"Adam had been in boot camp about two weeks on that day," Randy said. "I just knew they were gonna take him out of the National Guard and put him in the regular Army and he wouldn't be coming home."
Adam did make it back home to Nebraska from basic training, but he didn't stay there for long. Shortly after his return in 2002, Adam, who now serves as a sergeant first class in Hastings' Troop A, 1-134th Cavalry – began preparing for a peacekeeping mission to Bosnia-Herzegovina, a country still recovering from years of bloody civil war and ethnic cleansing.
After hearing the news that his son was heading overseas as part of a major mobilization of National Guard Soldiers, Randy, who began his career as a farrier, remembered the story of Dunstan the Blacksmith, the Devil and how a horseshoe came to be lucky.
In that story, a blacksmith named Dunstan was working in his shop one day when the Devil walked by and became intrigued by the sound of the pounding of the anvil. When the Devil realized the blacksmith was making horseshoes to protect the horse's hooves, he thought that as a cloven hoofed animal, he too, should have horseshoes to protect his feet.
So, the Devil made a deal with the blacksmith to make him shoes for his own feet. The blacksmith, realizing who he was dealing with, ensured that every shoe that he put onto the Devil's foot was still red hot from the fire while driving the nails down deep into the devil's feet. After all of the shoes were on the Devil paid the Blacksmith and left the shop. Knowing it was bad luck to do business with the Devil, the blacksmith threw the money into the fire right away.
Later, as the Devil walked down the road, the nails drove deeper and deeper into his feet. Finally, unable to take any more pain, the Devil stopped alongside a well and tore the shoes off, throwing them down the well.
To this day, it is still a blacksmith tradition to ring one's anvil three times at the end of the day to drive the Devil out until the next morning, or, if the Devil sees a horseshoe, he turns and runs away from it, remembering all the pain and torture they had caused him. That is the reason a horseshoe is supposed to bring you good luck, Randy said.
With that story in mind, Randy decided to make a miniature horseshoe for his son to carry in his pocket during his deployment. It would soon come to be known as the Soldier's shoe.
Before leaving for Bosnia, Adam went to visit his dad at the museum one more time. He listened to the story as he looked at the keepsake. "That way you can carry your luck with you on the field," Randy told Adam after the story. "Adam just stood there for a minute and looked up at me and said, 'Every guy in my Troop needs one.'"
"So I made 65 more to give to every Soldier from his Troop to take with them to Bosnia," Randy added.
All 65 Soldiers and horseshoes made it home safely, but they didn't stay home for long.
Soon, the unit was notified of another deployment to Iraq, and a few years later, they were off to Afghanistan. Before the Afghanistan deployment, Randy once again made horseshoes for the entire unit, but this time at the request of Maj. Gen. Judd Lyons, the Nebraska adjutant general at the time. After Lyons learned about the keepsakes from Adam's commander, he wanted to make sure every Soldier could carry their luck with them in the field.
"That general had called about three times I think," Randy said. "He said I have this many Soldiers deploying from this armory, could you make them all a little horseshoe?" He gladly made enough horseshoes for every Soldier.
After that request Randy began keeping horseshoes with him to give to any service member he came across. He has passed out horseshoes at gas stations, restaurants and the Stuhr Museum. He also continues to tell the recipients the story behind the symbol.
"It has just become a tradition," he said. "And working here at the museum I have seen a lot of Soldiers come through. You can always tell a Soldier."
He could even see the Soldier in an old friend he hadn't seen in years. It turns out one of Randy's high school classmates had chosen the Army for his career path.
Frederick Drummond, who at the time was a major with the 82nd Airborne Division, came by the Stuhr Museum one random summer day. Randy continued his new tradition of telling the story of Dunstan while he made his old friend a horseshoe to take home.
The next summer, Drummond came back to the museum while home on leave. He told Randy he thought he had lost his horseshoe. He added that he didn't hardly leave base for three days until he remembered he had put it in his wallet rather than his pocket as he usually did.
Drummond realized how much that tiny horseshoe meant to him and wanted to give that sentiment to his troops in the 82nd for their deployment.
"'I've got about 500 troops over there,'" Randy recalled Drummond saying. "'Could you make one for each of them?'"
Randy filled the order and made a trip to the Post Office. After having to ship the box twice when the first box had been mishandled and torn up, it took just a month before he received a phone call requesting more.
"It turns out one of the guys from the 82nd had been talking to someone in the 101st Airborne," Randy said. "The 101st ordered 500 shoes."
"We recruited friends to help with that," laughed Sarah Dack, Randy's wife. Proud military parents, it is easy to tell the pride that the two Dacks have in not only their son, but for all men and women serving the country.
"Since 2002 my wife and I have given out well over 4,000 horseshoes," Randy said. "I've got horseshoes under the ocean in submarines, in the Air Force, Army and Marines. All branches."
Mostly smiles are on the faces of Randy and Sarah as they talk about all of the service members and the families they have touched, and hope they are making a small difference, even for those they have never met.
There have also been some tough memories created through their efforts. "This story is hard to tell," Randy said, his voice choking up.
One busy summer afternoon as Randy worked in his museum blacksmith shop, he noticed a young man standing in the back of the crowd wearing a Marine Corps shirt, missing part of one leg and standing on crutches. The man waited for the crowd to leave before he approached Randy. Randy looked at the young man and wanted to know his story.
"I hate to ask," Randy said. "But did that happen overseas?"
The Marine replied yes, and began telling his story.
The young man had joined the Marines out of high school. Shortly after finishing training he was deployed to Iraq and was in country for three weeks when his vehicle was hit by an improvised explosive device. When he woke up he was at Landstuhl Medical Center in Germany.
Lying in a hospital bed, a nurse approached the young, wounded Marine and they soon began talking. She started to tell the Marine about the vacation her and her husband had taken before she left for deployment. They went to a little museum in Nebraska that had a blacksmith who told the story about the Devil and the horseshoe. The nurse pulled a little horseshoe out of her pocket and handed it to the recovering Marine. She told him to take it because he needed it more than she did.
Then, as he stood in the blacksmith's shop door balancing on his crutches, the young Marine veteran dug into his pocket and pulled out the horseshoe.
"'This shoe hasn't left me since that day,'" Randy recalled the Marine saying. "'I just got out of Bethesda and I wasn't going to go home to San Francisco without going through Nebraska and finding that museum and that Blacksmith to say thank you.'"
After hearing the story, Randy made the Marine another horseshoe and asked him if he knew the nurse's name and address, to which the Marine replied yes. Randy gave the Marine the second horseshoe and told him to send it back to her.
"That story of the Marine," Randy said with watery eyes, "I still about lose it every time I tell it. When he left I had to close the shop, in the middle of the afternoon." "I cry every time he talks about that," Sarah said.
After discovering a miniature horseshoe similar to the ones Randy makes himself at a gun show in Hastings, Nebraska, it turns out the gesture has been practiced by blacksmiths for decades. Randy looked at the horseshoe – almost identical in every detail to the ones he makes – and then turned it over. On the back was the date, 1942. In 1942 there was a blacksmith in the Cavalry at Fort Hood, Texas, who had small horseshoes for every Soldier in his Troop before they were sent overseas.
Randy now encourages other blacksmiths to do the same for service members.
"I've presented at one of the National Blacksmithing Conventions about doing this and sending these over," Randy said. "Hopefully there are a lot more blacksmiths that are doing it."
The Dacks say they know what sacrifices military members and their families give. The horseshoes are just small ways to say thank you, to let them know they are not forgotten, and that they appreciate the fact that they are missing birthdays, anniversaries, ball games and family gatherings in order to serve.
"We just want to say thank you," Randy said. "When they reach in their pocket and feel the horseshoe it reminds them that there are people back home thinking of them. It ain't nothing. I use scrap metal, it don't cost me nothing. It don't cost the museum nothing."
Still, he knows it means something to those who receive it.
"I've had Soldiers, parents and grandparents come back to tell me how much the horseshoe meant," Randy said. "I hope it means something to every Soldier that gets one. We just want to say thank you."
By Sgt. Jessica Villwok — US Army