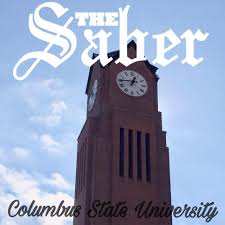 The Saber — Columbus State University's student newspaper — has received its first Associated College Press Pacemaker Award. Out of 37 college newspapers that were nominated for the nationwide honor, The Saber was one of only 11 to receive the coveted award this year.
"This is the Pulitzer prize of college journalism. It is the top of the top," said Raylyn Ray, the paper's 2018-2019 Editor in Chief. "This award tells us that we are doing exactly what we should be doing as journalists."
The Pacemaker judges university newspapers on merit demonstrating excellence in specific areas which include coverage, writing, editing, design, and photography.
The Saber staff submitted six issues from the 2017-2018 academic year for consideration. They were informed of their nomination in August, and were recognized as winners at the ACP/CMA National College Media Convention in Louisville, Ky.
The newspaper also received an honorable mention award for layout and design, as well as an 8th place award for its website.
"The efforts to maintain this level and quality of work were put in by every single member of The Saber's team," said Scott Declue, 2017-2018 Editor in Chief. "I truly believe that not only should the members of this publication pat themselves on the back, the institution of Columbus State and its faculty and staff who mentor, teach, and administratively facilitate the needs of the paper should do so also."
Earlier in the year the Columbus State University newspaper won eight awards presented by the Georgia College Press Association. The highlight was the paper receiving first place in the in General Improvement. 
The Saber publishes a monthly thought-leader magazine that can be found on stands throughout both RiverPark and main campus. A team of media specialists, journalists, managers and editors work together to inform and entertain the CSU community.
The publication provides a means for students, faculty and staff to express their views, in both guest editorials and letters to the editors. The editor and staff have full responsibility for preparing the publication.
Staff positions are open to all students who meet the qualifications. http://saber.columbusstate.edu/