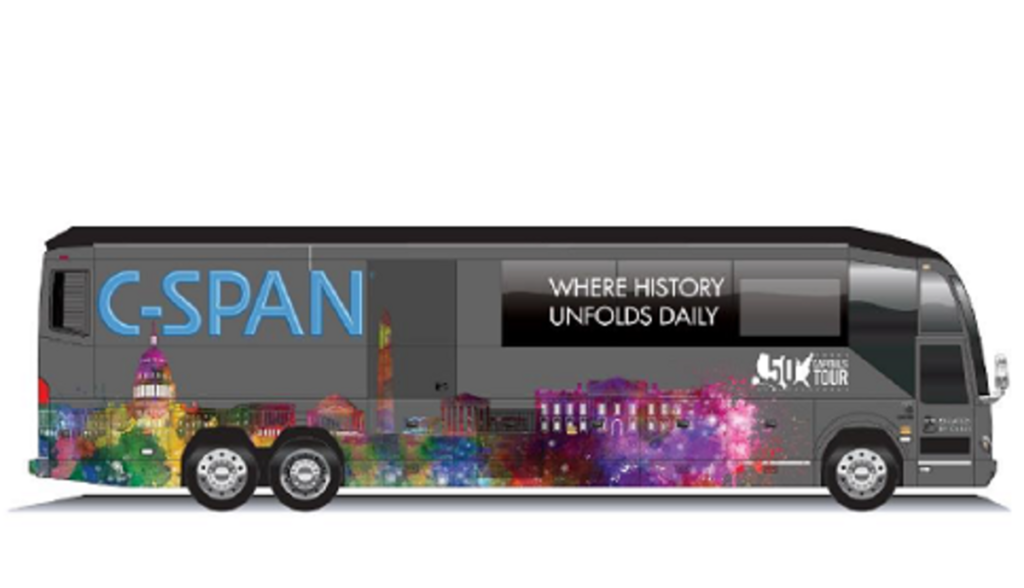 C-SPAN's state-of-the-art, 45-foot customized motor coach will be making two stops in Columbus on Thursday as part of a four-state tour designed to engage students, community members and elected officials as the network prepares for its 40th anniversary.
The tour will pass through South Carolina, Florida, Georgia and Tennessee. In partnership with Mediacom, the colorful C-SPAN Bus will visit Columbus and make stops at Northside High School and Columbus State University's downtown campus.
The bus is also visiting local educators who use C-SPAN Classroom's educational resources and participate in StudentCam, C-SPAN's annual documentary competition.
"We are honored to recognize the work of these outstanding social studies educators," said Craig McAndrew, C-SPAN Education Relations Manager. "We hope to support their continued efforts in developing civically engaged youth."
The high-tech, interactive C-SPAN Bus comprises:
Access to an exclusive interactive experience available on 11 large-screen tablets featuring C-SPAN programming and myriad of political and educational resources
A smart TV and classroom area for conversations with students and teachers
A high-definition TV production studio for taped and live programming
A 360-degree video station featuring C-SPAN's unfiltered coverage of high-profile events and insightful, behind-the-scenes tours of U.S. landmarks
A D.C.-themed selfie station where visitors can share their Bus experiences through social media
Since 1993, a C-SPAN Bus has traveled across the nation visiting schools and community events in partnership with C-SPAN's cable and satellite providers. Bus visitors engage with C-SPAN representatives and interactive tools to learn about the unique public affairs programming and online resources such as C-SPAN Classroom – the network's free membership service for teachers and students.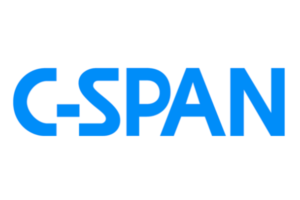 The tour also gives educators and students the opportunity to learn about StudentCam, C-SPAN's documentary competition that awards a total of $100,000 in prize money.
This year's theme – "What does it mean to be American?" – asks students to choose a constitutional right, national characteristic or historic event and explain how it defines the American experience.
"Mediacom is thrilled that C-SPAN is continuing their long tradition of visiting communities across the country sharing their political and educational resources. We're proud to partner with C-SPAN on this tour recognizing exceptional educators in the communities we serve. We look forward to Columbus residents and elected officials stepping aboard to experience all that C-SPAN has to offer," said Phil Skinner, senior director for area operations
Local bus visits begin Thursday morning:
9 A.M. – 11 A.M.
Northside High School
2002 American Way, Columbus, GA 31909
Noon – 2 P.M.
Columbus State University (in front of Carpenters Hall)
#4 9th Street, Columbus, GA 31901
In Columbus, C-SPAN programming is provided by Mediacom as a commercial-free public service and can be seen on channel 96 and 1225; C-SPAN2 on channel 87 and 1226; and C-SPAN3 on channel 88, 1227 and on the web at C-SPAN.org. Funding for C-SPAN operations, including Bus visits, is provided by cable and satellite TV providers.
Media can access photos and videos of the new C-SPAN Bus online here for reporting purposes.  Fans can follow the adventures of the C-SPAN Bus on Twitter and Instagram @cspanbus and online at C-SPAN.org/community.
####
About C‐SPAN: Marking its 40th anniversary in 2019, C-SPAN was created by the cable TV industry and is carried in more than 90 million TV households. C‐SPAN programs three commercial-free public affairs television networks; C‐ SPAN Radio, heard in Washington D.C., at 90.1 FM and available as an app; and C-SPAN.org, a video‐rich website offering live coverage of government events and access to the vast archive of C‐SPAN programming.
About Mediacom Communications: Mediacom Communications Corporation is the 5th largest cable operator in the U.S. serving almost 1.4 million customers in smaller markets primarily in the Midwest and Southeast. Mediacom offers a wide array of information, communications and entertainment services to households and businesses, including video, high-speed data, phone, and home security and automation. Through Mediacom Business, the company provides innovative broadband solutions to commercial and public sector customers of all sizes and sells advertising and production services under the OnMedia brand. More information is available at www.mediacomcable.com.