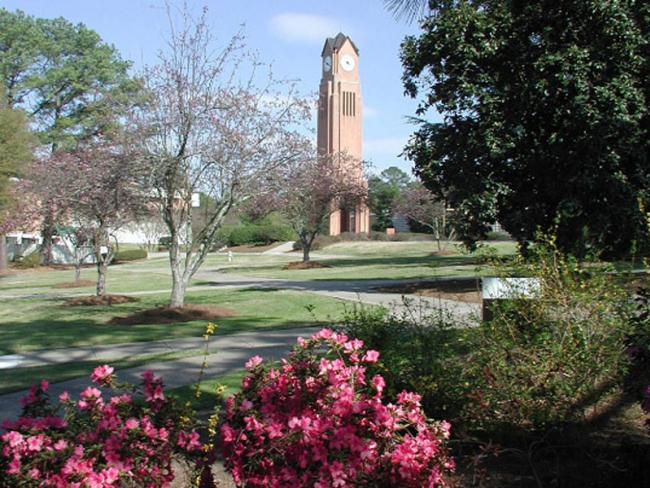 Columbus State University's first full cohort of graduates from the new Competitive Pre-Med Studies Program will walk across the stage Saturday afternoon and continue their journeys to become doctors.
The program's founder, Dr. Katey Hughes, is pleased to announce that each of the six graduates who applied to medical school have received acceptance letters.
"It would have been a lot harder without the program," said Jocelyn Cañedo, a graduating biology major who will be attending the Edward Via College of Osteopathic Medicine (VCOM) in Auburn this fall. "I would have had to find MCAT resources on my own. I would have had to come up with places to volunteer. The program had volunteer opportunities lined up for me, so that I could really hit the ground running."
Cañedo is one of six graduates from the program who were recently accepted into medical school. Another five graduates are preparing to take the MCAT and apply for med school in the fall.
"If you talk to students from all over the country, you would see students who are academically qualified to get into medical school, but along the way, life happened to them. Maybe they weren't able to focus on studying for MCAT or they didn't have a contact to write them a recommendation," said Hughes. "I thought that there needed to be a better way to provide opportunities to our students that they wouldn't get at any other university."
Recognizing this nation-wide need for more support of pre-med students, Hughes created the CSU program in 2013 with support from CSU's College of Letters and Sciences. She thought through common obstacles and created opportunities to help her students overcome each challenge.
To ensure students have contacts in the field, she developed a clinical volunteering program, a five-week shadowing experience with local physicians, and "physician coffee talks" that provide opportunities for students to get to know physicians in various specialties.
Mentorships were created between upperclassmen and freshmen, so that new students would have a peer to ask basic questions relating to college and the program. For MCAT preparation, students can take advantage of books, online materials and a new J-term course specifically aimed at standardized tests.
For an extra boost of motivation, Hughes planned a trip to a nearby medical school at the end of each semester.
"We have connections to different medical schools in Georgia and Alabama," said Hughes. "For example, we have an articulation agreement with the Edward Via College of Osteopathic Medicine (VCOM) in Auburn. It provides a pathway for qualified applicants to be admitted to their medical school."
To be admitted to the competitive pre-med studies program at CSU, students must complete at least one semester with a 3.4 or higher GPA. High school seniors may also apply and are admitted with approval from a special admissions committee.
Students typically major in biology or chemistry, but there are exceptions.
Freeman McCluskey, came to CSU's pre-med program, after receiving his bachelor's degree from another university. He completed his prerequisite courses for med school while participating in the program, and now he has been accepted into Mercer Medical School.
Another student, Jesse Hunt, is majoring in both biology and chemistry. Although she will not graduate until next spring, she has already been accepted to VCOM at Auburn on the condition she maintains her outstanding academic record.
"It is important for students to know that there are many different paths," said Hughes. "We are here to think through their individual situation and help them develop a path that best fits their life."