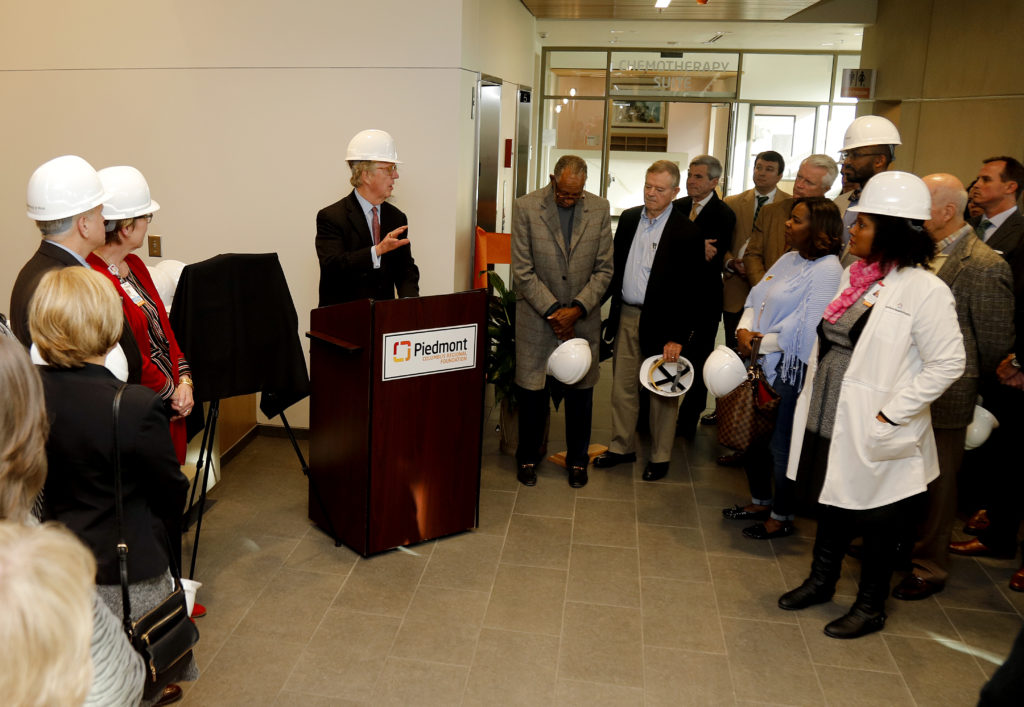 The Piedmont Columbus Regional Foundation hosted an expansion and renovation celebration at the John B. Amos Cancer Center on Wednesday, marking completion of Phase 1 of the expansion including the addition of a 48,000 square-foot adjoining building.
This also marked the launch of the campaign for the John B. Amos Cancer Center to raise funds for the renovation of the existing facility and to invest in next-generation technology to deliver the most effective patient care.
The John B. Amos Cancer Center— a comprehensive, multidisciplinary cancer center accredited by the Commission on Cancer by the American College of Surgeons— is the only treatment center of its kind in the 14-county service area of Columbus.
With more than a 30 percent increase in the demand for cancer care since opening in 2005, the John B. Amos Cancer Center is operating at capacity and is seeing three times the number of patients that the facility was originally designed to accommodate.
The expansion will add 13 exam rooms and 21 chemotherapy infusion chairs for patients, the relocation of the Breast Care Center inside the John B. Amos Cancer Center, a separate specialty clinic for community physicians, shared clinical space for physicians and staff and a café so patients and their family members don't have to leave to get something to eat or drink.
In addition to expanded patient care, the new and renovated facility will provide respite and quiet areas for patients and family members as well as a community conference center.
"The John B. Amos Cancer Center has provided expertise in the direct care of our patients with superb infusion, radiation oncology and supportive services. The expansion and renovation will further enhance these capabilities and, more importantly, complete the full continuum of care: prevention, screening and diagnosis, treatment, long-term care and survivorship," said Dr. Andrew Pippas, Medical Director of the John B. Amos Cancer Center.
At the helm of the capital campaign are co-chairs Dan and Wanda Amos, who are the nephew and daughter-in-law of the late John B. Amos.
"I'm so proud to be representing my husband, Shelby and his sister, Sita— John Amos' children and working beside our cousin, Dan and his wife Kathelen to lead this campaign for the John B. Amos Cancer Center," said co-chair Wanda Amos. "This work helps us continue Mr. John's vision to provide quality cancer treatment here in Columbus so people can stay at home to receive their cancer care."
"To date, a total of $13.8 million has been raised towards a 'stretch goal' of $20 million. The total cost of the project is $42.9 million and, of that, $20 million for the 48,000 square-foot new construction is being funded through hospital capital. However, the renovation of the existing center and investment in 'next generation' technology is 100 percent dependent upon philanthropy and the generous support of our community. We believe our patients deserve nothing less," said Bill Tustin, Vice President of Oncology Services at Piedmont Columbus Regional.
Philanthropy will fund the renovation of the existing center at a cost of $5 million. This phase will include relocating the Breast Care Center and renovation of the Radiation Oncology Suite and the multi-specialty clinic. In addition, the campaign seeks to raise $15 million to invest in technology to ensure the John B. Amos Cancer Center remains on the cutting edge of the most advanced cancer treatments available.
####
Piedmont Columbus Regional is a leading healthcare provider in West Georgia serving the Columbus, Ga. area with a network of health and medical services through its two hospital campuses. Serving 21 surrounding Georgia and Alabama counties, Piedmont Columbus Regional's Midtown campus is a 583-licensed bed, acute care hospital offering a Level 2 Trauma Center and Level 3 Neonatal Intensive Care Unit, one of only six perinatal centers in Georgia and the region's only full-service Pediatric Intensive Care Unit. The Northside campus is a 100-bed hospital providing an extensive range of surgical, rehabilitative and other medical services. A new 11,000 square feet Emergency Department opened in April 2018. Piedmont Columbus Regional is also comprised of the John B. Amos Cancer Center, two urgent care centers, a Family Medicine Residency Program, as well as an American Society of Health-System Pharmacists-accredited pharmacy residency program, and an extensive network of respected physicians, surgeons and specialists. Founded in 1836, Piedmont Columbus Regional became part of Piedmont Healthcare in March 2018 – expanding quality health services to the Columbus area and surrounding communities. For more information, visit piedmont.org/columbus.