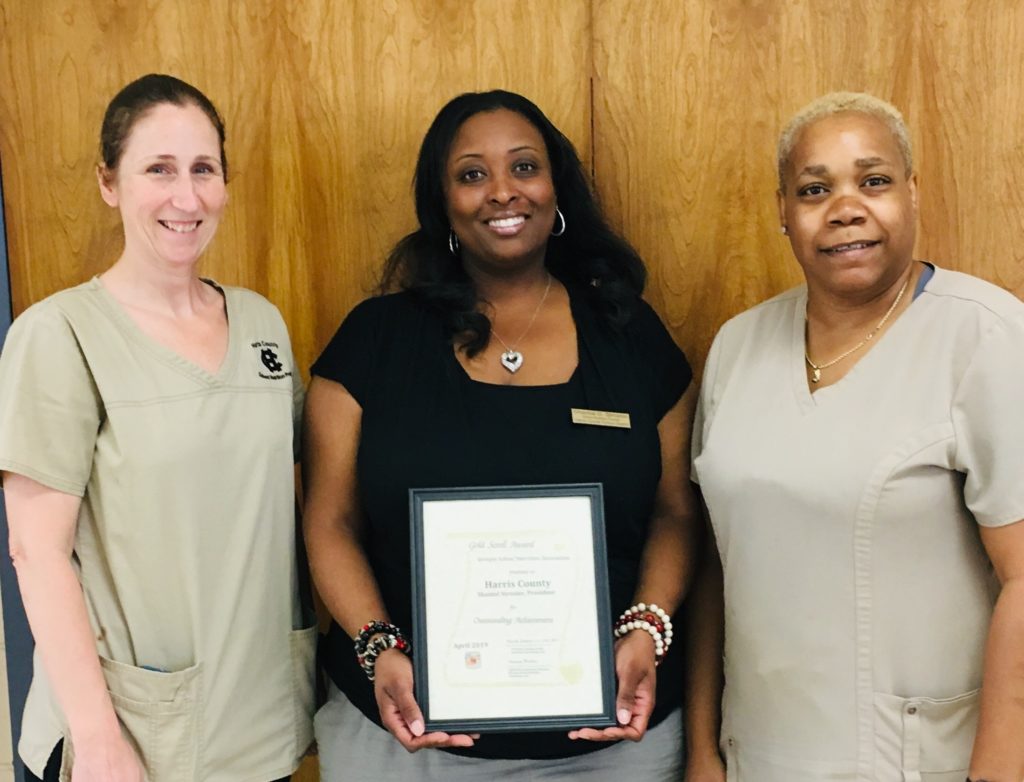 For the first time, the Harris County School District (HCSD)'s Nutrition Association (HCSNA) has been awarded the Gold Scroll Award for outstanding achievement by the Georgia School Nutrition Association (GSNA).
Shantal Strozier, interim HCSNA president and HCSD's nutrition director, received the award at the annual GSNA conference in Athens, Ga., on April 13, 2019.
The President's Award for the Local Chapters Plan of Action (PoA) was designed to reflect the message of this year's theme "Equipped to Serve: Service Minded, Hunger Focused" by helping members connect with the community and students with a focus on being of service and ending childhood hunger. The PoA was divided into the five service plans that represent the major focus areas – Advocacy, Community, Education and Professional Development, Membership, and Public Image. The District's Nutrition Department set out to maximize their efforts to earn points for the top award.
"We are excited to bring home the GSCN Gold Scroll award to Harris County," Strozier stated. "I am so proud of our nutrition team across the county."
This is the second awards program the Nutrition Department has participated in this school year.  In the Fall, the HCSD's Nutrition team earned a bronze radish in The Golden Radish Award, which recognizes efforts in Farm to Schools initiatives to incorporate locally-sourced foods into the school nutrition offerings. The Golden Radish Award is presented by the Georgia Department of Education, Georgia Department of Agriculture, Georgia Department of Public Health, the UGA Cooperative Extension, and Georgia Organics.
The Harris County School District is in Hamilton, Ga.  For more information, visit www.harris.k12.ga.us or call 706-628-4206.