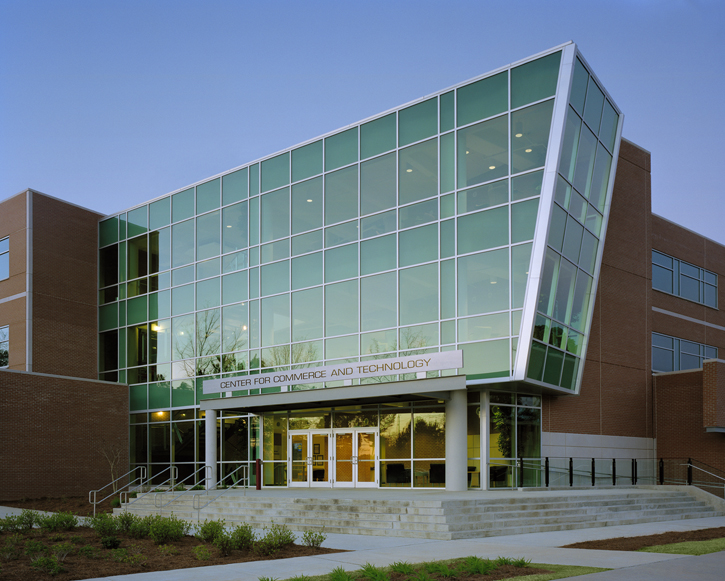 Columbus State University's Center for Commerce and Technology will become the Synovus Center of Commerce and Technology at a renaming ceremony on Thursday at 10:30 a.m.
"This naming is recognition of the long role that Synovus has had in supporting and shaping both the community of Columbus and the campus and curriculum of Columbus State University," said CSU President Chris Markwood.
"It is especially appropriate that the highly-respected Synovus name be tied to the home of our innovative business and computer science programs, which Synovus has so generously supported," he added
Synovus has contributed or pledged more than $6 million to Columbus State University over the last two decades. The company's leaders have led recent capital campaigns, and their support has gone directly to help women's athletics, student scholarships, the music program, the TSYS Department of Computer Science and the university's financial success program.
Synovus has also been a strong supporter of CSU internships, has hired CSU graduates, and participated in community development efforts.
"The decades-long partnership between Synovus and Columbus State has been mutually beneficial to our company and the university and — even more important — tremendously fruitful for the Chattahoochee Valley," said Synovus Chairman and CEO Kessel Stelling. "We are grateful for our relationship with CSU and honored to be recognized with this renaming."
Stelling is also a member of the Board of Regents of the University System of Georgia, which oversees the state's 26 colleges and universities.
Going back to the university's early years, Synovus executives have individually provided valuable support to CSU. They have served in leadership roles and providing the university with valuable guidance, wisdom, and involvement.
Jimmy Yancey is a CSU alumnus who served as Synovus president and chairman of the board. He chaired CSU's Investment in People campaign that ended in 2005 with more than $100 million raised and helped create CSU's RiverPark campus.
James H. Blanchard, who served as chairman and CEO of Synovus for more than 35 years, created the annual Jim Blanchard Leadership Forum at CSU, which has become one of the most impressive gathering of leaders in the nation.
####
Contact: Greg Hudgison, Director, University Relations, hudgison_gregory@columbusstate.edu, 706-507-8532.