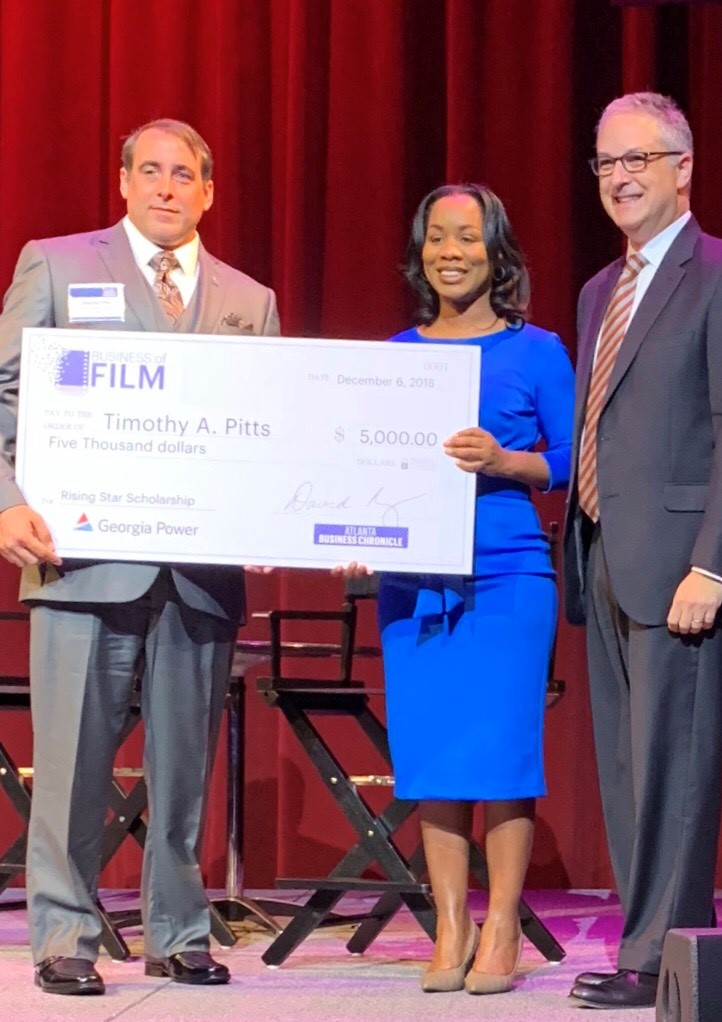 To call Columbus State University communications major Timothy Pitts a non-traditional student is an understatement, but the former welder and Navy veteran is the winner of the inaugural Georgia Power Business of Film Rising Student Scholarship.
Nominated by Danna Gibson, the chair of CSU's Department of Communications Department, Pitts was presented the $5,000 scholarship at the 2018 Business of Film event held recently at the Sandy Springs Performing Arts Center.
"Timothy has shown himself diligent in his studies and he is grateful for the opportunity to complete a degree," Gibson said. "Timothy is the perfect fit for this prestigious life-changing award."
Pitts, a former welder and Navy emergency medical technician, began coursework at CSU in 2018. He is pursuing a bachelor of arts in communication with film production concentration, as well as a film production certificate. He has maintained a 3.75 GPA and is expected to graduate in summer of 2020.
"Timothy has excelled in his film production courses and has volunteered on numerous productions sets. His work ethic has won him the admiration of professors and producers alike – one who asks for Timothy by name for upcoming film productions," said Gibson.
Despite his strong performance in the classroom, Pitts faced the depletion of his Post-9/11 GI Bill funds. This would have left him three semesters short of his degree. Receiving this award ensures that Pitts will be able to continue his studies to completion.
"Because of Georgia Power, the Atlanta Business Chronicle and this scholarship, I'm not only able to complete my degree but also show my children that no matter where you start in life, you can find your purpose and pursue your passion," said Pitts.
Pitts, the first recipient of the new scholarship, was selected among nominations from the Savannah College of Art and Design and Georgia State University. The scholarship will be awarded annually during the Atlanta Business Chronicle's Business of Film event. Since 2016, Georgia Power has been a presenting sponsor of the event, which focuses on the future of the state's rapidly growing film industry.
"We're so pleased to partner with Georgia Power on the annual Business of Film event and this inaugural scholarship," said David Rubinger, president and publisher of the Atlanta Business Chronicle. "Through their economic development and workforce development initiatives, Georgia Power plays a major role in recruiting the film industry to our state, and they understand the importance of attracting and keeping film dollars in Georgia."
From major motion pictures, to indie films and television series, Georgia Power uses its properties, business partnerships, power grids, and other assets to make Georgia a one-stop shop for filmmakers. Through its economic development team, Georgia Power provides access to industrial properties, lakes, generating facilities and parks as well as assists with lighting and power needs.