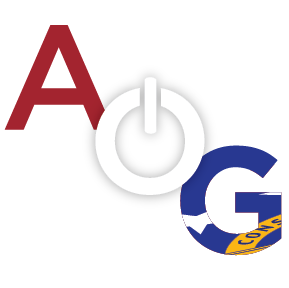 Glynn County put together a strong fourth-quarter rally to secure a 38-27 win against Wayne County.
Friday night's non-region win against the 4-0 Yellow Jackets was the first time the Red Terrors played a team of opposite jersey color in 28 days. The water surge created a lot of damage in Brunswick and Golden Isles. The damage and flooding directly impacted Glynn Academy coaches and players. When the mandatory evacuation was ordered, games were canceled for Friday, Sept. 8. and Glynn County Schools closed on Sept. 15th due to Hurricane Irma's impact.
Once damaged was assessed and a sense of normalcy set in and schools re-opened, teams started to practice again. Coming off a 27-7 loss to AAAAAAA-1 Tift County on September 1st, for 28 days it's been red vs. white or white vs. red or any other combination, but it was only another Red Terror across the line of scrimmage.
"28 days between games, I have never done that. I wasn't sure how to do it and get ready again, we were impacted by Irma and once everyone and everything were safe, the season gets going again. You can have great practices and see a great effort from players but there is no way to replicate a game against an opponent," Glynn Academy Red Terror Head Football Coach Rocky Hildago said.
The Yellow Jackets on the night of its homecoming playing in front of packed Jaycee Stadium won the coin toss and deferred to the visitor.
Red Terror Senior Quarterback Randin Jernagin opened the game with a 14-yard run plays later scored on a 46-yard dash on fourth and four taking a lead 7-0. The first quarter Glynn Academy delighted in seeing a team with another color jersey.
The Red Terrors scored early and often in the first half. Glynn defender EJ Thomas recovered a fumble on Wayne County's opening offensive possession. Three plays later Hunter Hall scored from a yard out, and Glynn was leading 14-0 midway thru the first quarter. Wayne's first offensive series was stymied by Glynn's defense and two plays later, Caine Crews scored on five-yard rush to run the Red Terror score to 21-0. Jernagin showed his arm off in the second quarter hitting Crews for a long pass putting Glynn Academy in the red zone and then Jernagin ran for 16 yards to build a 28-0 lead.
Wayne took the ensuing second-quarter kickoff for a deep return setting up the Yellow Jackets first score a touchdown pass from Trenqulle Holloway to Victor Andrews, 28-7.
Red Terror Jack Podlesney added a 25-yard field goal for the Red Terrors final score of the half extended the lead to a comfortable, 31-7.
Wayne County made some good halftime adjustments and took advantage of some Red Terror mistakes and a little fatigue. Ranked number 8 in AAAAA, Holloway threw a 63-yard scoring strike in the first three minutes of the third quarter and added a two-point conversion. Wayne took possession of the ball and recovered an on-side kick, but the Red Terrors forced a three and out. The Yellow Jackets scored again in the final three minutes cutting the Glynn lead, 31-21.
Wayne's offense continued to cut into the lead but lost the ball on downs after not converting on fourth down with less than six minutes to go in the game.
Jernagin, who started the Red Terrors scoring added his third rushing touchdown of the game from 20 yards out. Wayne added a touchdown in the final two minutes, but Glynn held on, 38-27, for its second win of the season.
"Early on we go up 21-0, in the first quarter and we added another couple of scores and we ended playing the rest of the game with backups. That isn't what we wanted to do. We had to play four quarters tonight, I knew that Wayne would be ready, this gave us a good test, after 28 days we just wanted to play four quarters and we did that tonight…and I'm pleased with that," Hildago said.
Region 6A-2 starts play next Friday night when Glynn Academy goes to the Palace of the Pines in Effingham County. The Rebels are 3-3, defeating Liberty County, 33-13 Friday night. Bradwell Institute, at 6-0, and Richmond Hill, 5-0, are the only undefeated teams in Region 6A-2. However, neither of those teams have faced non-conference foes like 2016 AA State Champion and undefeated Benedictine and 7A teams like Tift and Coffee County.
"We have to start getting ready for Effingham County. They are strong, physical team plus we have to go on the road the first week of Region play. We will get focused this week and be ready for the Rebels," Hildago said.
A lot of the prognosticators and message boards have Brunswick the potential 6A-2 Region champion. Many speculate that the Pirates versus Richmond Hill could be the deciding factor. The Pirates are proving true to the hype under first-year head coach Sean Pender. Glynn Academy certainly is going to be part of the conversation, but Hildago remains focused.
"Brunswick is on our schedule we will see them in two weeks. Our focus this week is to go be ready to play Effingham County next Friday night," Hildago said.
____
Written by W. John Wood