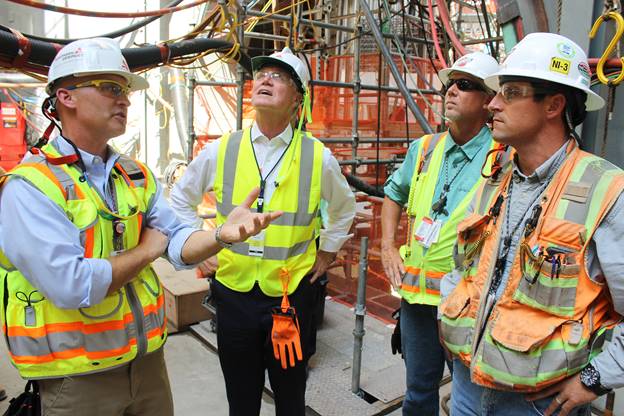 U.S. Senator David Perdue (R-GA) has applauded Secretary of Energy Rick Perry for visiting Plant Vogtle in Waynesboro, Georgia, and reaffirming the Trump Administration's commitment to completing Vogtle Units 3 & 4. Secretary of Agriculture Sonny Perdue and Governor Brian Kemp also attended.
In August, Senator Perdue toured construction on Vogtle Units 3 & 4 and invited Secretary Perry to visit the plant and see the value of the project firsthand. Today, the U.S. Department of Energy finalized a conditional loan guarantee of up to $3.7 billion for the completion of Plant Vogtle.
"Secretary Perry's visit to Plant Vogtle demonstrates President Trump's commitment to unleashing America's full energy potential," said Senator Perdue. "I've seen firsthand the key progress being made on Vogtle 3 & 4. Once completed, Plant Vogtle will be home to the first new nuclear units built in the United States in more than 30 years. This project will help bring our nuclear capabilities into the 21st century and make Georgia a leader in our country's long-term energy independence. Thanks to the Trump Administration and everyone at Georgia Power and Plant Vogtle for your commitment to keeping this critical project on track."
"The Vogtle project is critically important to supporting the Administration's direction to revitalize and expand the U.S. nuclear industry," said Secretary Perry. "A strong nuclear industry supports a reliable and resilient grid, and strengthens our energy and national security. As I've witnessed firsthand today, Vogtle is also an energy infrastructure project with a massive scope employing thousands of workers. This project is rebuilding a highly skilled U.S. nuclear workforce and supply chain for the future."
This is a press release.