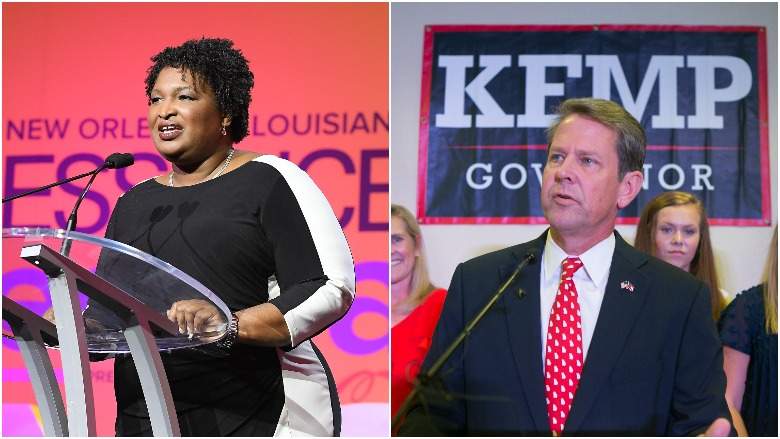 A recent poll released on Monday suggests both candidates for Georgia governor have a lot of ground to make up with voters of the opposite gender.
The poll completed by Landmark Communications surveyed 964 likely voters in Georgia. Overall, Kemp had a slight lead over Abrams, 48 percent to 46.3 percent respectively which is not considered a statistically significant lead.  Most of the voters surveyed were women, 529, and men made up 435 of the respondents.  The Libertarian Ted Metz had close to 2 percent of support while only 3 percent of voters said they were undecided.
Abrams' man gap –
Abrams' gap with men is 9.8 percent: Abrams polls among men with 40.9 percent support while women give 50.7 percent support.
Kemp's woman gap –
Kemp's gap with women is at 12.3 percent: Kemp polls among men with 54.7 percent support while women give 42.4 percent support.
The Kavanaugh Effect – 
The poll asked about the U.S. Supreme Court nominee Brett Kavanaugh. The question asked: Generally speaking, should the US Senate vote to confirm Brett Kavanaugh to the US Supreme Court, or not?
Overall, those that were polled, 48.7 percent said YES, the Senate should confirm Kavanaugh. Those that polled NO, 43.3 percent said they should not confirm Kavanaugh. Eight percent of those polled said they were undecided.
Among men and women polled if Kavanaugh should be confirmed, 55.8 percent of men polled said they should confirm him while 42.7 percent women said to confirm Kavanaugh.
Among men and women polled not to confirm Kavanaugh, 39.4 percent of men said not to confirm him while 46.7 percent not to confirm him.
Georgia Lt. Governor's Race –
For Georgia's Lt. Governor's Race, similar stats emerge in the recent poll.
Overall, the Republican Geoff Duncan leads with 48.2 percent while his Democratic opponent Sarah Riggs Amico polled at 45.6 percent. Undecided voters for this race polled at 6.2 percent.
Duncan leads among men at 53.8 percent while Amico leads among women 49.5 percent.
The Real Clear Politics poll average has Abrams and Kemp tied in the race.
Below is the entire Landmark poll:
Landmark Communications Poll of Georgia 10.2.18