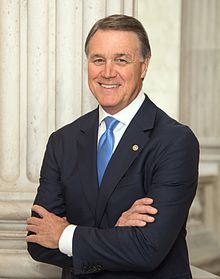 The U.S. Senate passes a $675 billion defense budget bill on Thursday to avoid a funding lapse in September and avoid a government shutdown.
Georgia's U.S. Senator David Perdue, who sits on the Senate Armed Services Committee, praised the passage but looks to go further to ensure Georgia's military has adequate funding.
The bill, which passed 85-7, includes funding for the departments of defense, health and human services, labor, and education which totaled $857 billion collectively.
The $675 billion portion looks to fund military spending next year with $68 billion for overseas contingencies which align to the recently passed defense authorization bill.
Georgia businesses and military bases look to benefit greatly from the funding in areas of arms and ammunition in Bryan County, supplies for submarines in St. Marys, upgrades for military planes in Warner Robins, and A-10 aircraft upgrades at Moody Field Airforce Base in Valdosta.
The Senate's version of the bill also includes a 2.6 percent pay raise for troops in 2019, which is also in the House's plan.
"Today, the Senate funded critical defense priorities to strengthen our military's capabilities and provide long-term certainty for our men and women in uniform. With this funding package, Congress will have completed 90 percent of the federal government's discretionary funding for next year," stated Senator Perdue. "This is a step forward, but it's still not good enough. The goal is to get the entire job done. In March, President Trump was clear when he said he will not sign another massive omnibus bill. We pushed for the Senate to work through August to avoid another last-minute spending battle. We are making progress, but there is more work to do."
Senator Perdue is leading a push to expedite floor consideration of funding bills as part of what is being called a "minibus" bill.
On May 10, a group of 16 senators sent a letter to Leader McConnell. On June 5, Leader McConnell updated the Senate calendar to extend the work period in order to pass critical defense measures.
September 30 is the deadline to either pass new appropriations for federal agencies, pass a temporary budget extension into the fall, or trigger a partial government shutdown.