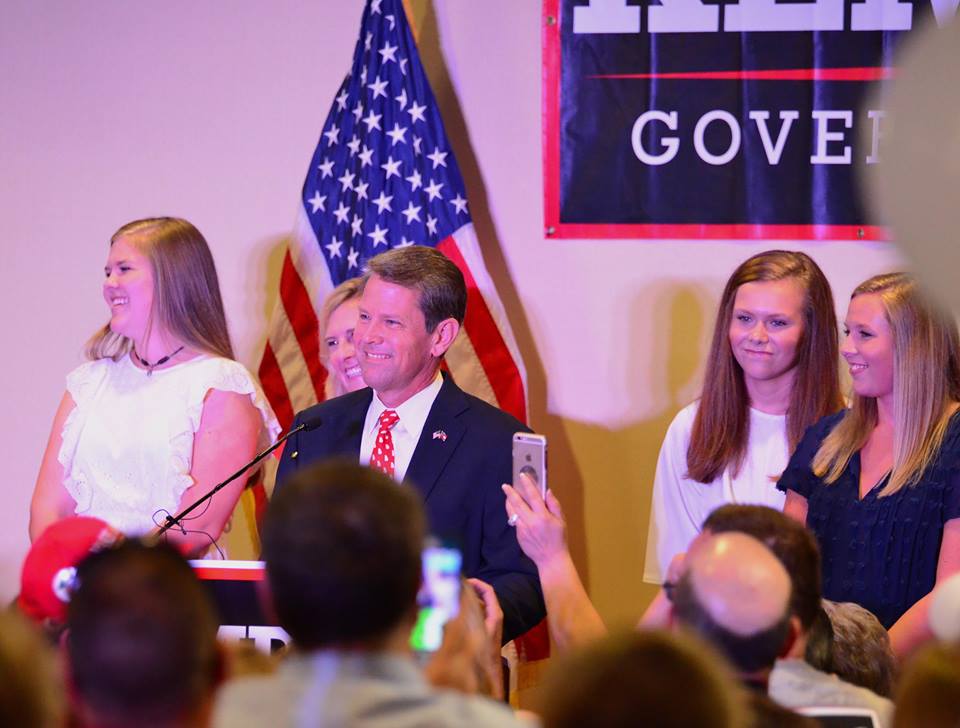 Over 50 Georgia grassroots Republican women leaders publicly condemned a Democratic candidate for Lt. Governor Sarah Riggs Amico, who said that Brian Kemp would be a target of the #MeToo movement if elected, because "stuff happens".
At a campaign event last week, Amico looked to capitalize on the ire from the Kavanaugh hearings.
"And I would say that normally that that's probably a very unlikely event, but let's be honest, if we got, if we had Governor Brian Kemp in sort of the Me Too Era, I'm not sure it's guaranteed that he'll make it four years," Amico told the crowd.
The following is a press release by Republican Grassroots women leaders in Georgia about what Amico said about Kemp:
" In Sarah Amico's desperate attempt to obtain name recognition she has intellectually insulted Georgia voters. Brian Kemp is a good man. He is a man of faith, a husband, and a father. "  said Julianne Thompson, a nationally-known activist leader, conservative commentator, and Brian Kemp supporter.
Thompson continued, " It was Stacey Abrams who voted against strengthening laws to protect schools and child care facilities from sexual predators. It was Abrams who twice walked away from a vote that would have cracked-down on sex trafficking. It was Abrams who voted against against a ban on taking photos of children without their consent. And it was Abrams who shamefully compared law enforcement officers to terrorists."
"Brian Kemp has lead the way on public safety and security. He will work hard to ensure Georgia is no longer a hub for sex trafficking and he will stand by our brave men and women in law enforcement to make sure our communities are safe and that Georgia is the best place in the nation to raise a family."
" As the mother of two children, it is terrifying that we live in an atmosphere where the left attempts to use the politics of lies and threats in an attempt to try and  destroy those who stand in their way of power. If Ms. Amico were truly concerned about women, she could show her commitment by asking the Vice Chairman of the Democratic National Committee, Keith Ellison, to step down for sending his girlfriend to the hospital. But then women have never really been a real concern  of radical far leftists like Amico, and we won't be used as pawns for power." Thompson concluded.
"I have known Brian Kemp for 30 years,   said Republican National Committeewoman Ginger Howard.  "He is the same man of integrity now that he has always been and to insinuate otherwise is ridiculous, not to mention slanderous to his great character."
Grassroots Activist Leader Rebecca Yardley stated , "As a survivor of sexual assault I can tell you that Brian Kemp should never be a target of the #MeToo movement. Brian Kemp has worked to strengthen laws to protect Georgians. Stacey Abrams has weakened them."
"All Georgians should feel threatened by the comments of Sarah Amico to verbally initiate plans to remove a Governor, if elected, by false accusation. I am disgusted by this witch hunt after great men. Brian is a godly, family-oriented man with incredible, strong women in his life. Let me just say #weseethrough Sarah Amico and we will be watching over our Governor.",  said Grassroots Activist Leader Madgie Nicolas.
"Ms Amico's statement that she is not sure Brian Kemp would make it the entire 4 year term because "stuff happens" sounds much more like a threat than a talk on succession. Brian Kemp is one of the finest people who has governed in Georgia, a man more concerned about the State and her citizens than self promotion. The opposition's advertisements implying scandalous behavior on his part have been shown to be misleading and false. Kemp, the father of three daughters and husband to Marty, has been summed up by those who know him the best as a man of impeccable character, a man of his word who is always faithful and honest." ,  said Suzi Voyles, State Chairman of Maggie's List.
" Most women do their homework, know their candidates, and always choose who is going to be the best choice for their children, now and in the future! We, the Women of Georgia Grassroots Coalition, choose Brian Kemp! The one that will put ALL Georgians First",   said Jeanne Seaver, President of Georgia Grassroots Coalition.
Former State Representative Charlice Byrd added,   " As a father of three young women, Brian Kemp takes the me too movement seriously and personally. Rest assured that during his four years as governor, women will be respected and valued throughout state of Georgia."
"Amico is showing her desperation",  said Rachel Little, GAGOP 4th District Chairman.   "She knows Brian Kemp is strong on public safety and Stacey Abrams is weak. Georgia voters are smarter than that. Brian Kemp is a good man and he is prepared to lead on every front", she added.
Georgia College Republicans Chairwoman Kylie Harrod stated,  " As a young woman, I believe Amico's comments regarding sexual assault survivors are shameful. She is seeking to politicize an issue for her own political gain and for that I am outraged. We should be seeking to have substantive conversations about these issues – not baselessly attacking a man of integrity."
"We as female grassroots leaders stand united behind Brian Kemp, a man of conviction and integrity. We strongly reject the politics of personal destruction embodied by the comments of Sarah Riggs Amico. Furthermore, we want it to be known that women are not monolithic in our thinking or voting. We care about the economy, about jobs and opportunity, safe schools and quality education, public safety and the right to protect our families – all things that Brian Kemp is leading on. We trust Brian Kemp and he has our full support to be the next Governor of Georgia."
Julianne Thompson – National Activist Leader and Conservative Commentator
Ginger Howard – Republican National Committeewoman for Georgia
Carolyn Fisher – 1st Vice Chairman, Georgia Republican Party
Debbie McCord – 2nd Vice Chairman, Georgia Republican Party
Bettye Chambers – Statewide Activist Leader
June Wood – Chairman – Henry County Board of Commissioners
Rachel Little – 4th District Chairman, GAGOP
Jeanne Sever – Chairman, Georgia Grassroots Coalition
Rebecca Yardley – Vice Chairman, 9th District GAGOP
Madgie Nicolas – Statewide Activist Leader
Kay Godwin – Co-Founder, GA Conservatives in Action
Pat Tippett – Co-Founder, GA Conservatives in Action
Kay Kent – Fulton County Activist Leader
Charlice Byrd – Former State Representative
Thuy Hotle – Gwinnett County Activist Leader
Patti Peach – Statewide Activist Leader
Mary Adamski – 1st Vice Chair 7th District GAGOP
Debbie Dooley – Chairman, Main Street Patriots
Krista Frost – Statewide Activist Leader
Kylie Harrod – Chairman, Georgia Association of College Republicans
Suzi Voyles – State Chairman, Maggie's List
Joy Turner – Treasurer, Glynn County Republican Party
Victoria Thompson – Chairman, Kennesaw State University College Republicans
Vanessa Green – Gwinnett County Activist Leader
Lydia Hallmark – Paulding County Activist Leader
Miriam Corbin – Cobb County Activist Leader
Donna Sant – Houston County Republican Leader
Joyce Smith – Gilmer County Activist Leader
Dorothy Hyden – Cobb County Republican Activist
Toria Morgan – Cobb County Activist Leader
Theresa Webb – Chair, Hall County Republican Women
Susie Davis – Effingham County Grassroots Chairman
Elisabeth Overton – Statewide Republican Activist
Virginia Williams – Forsyth County Republican Activist
Dr. Ginny Hall – Chairman, Glynn County Republican Party
Lisa Muldrew – Bulloch County Republican Activist Leader
Judy Bailey – Gwinnett County Activist Leader
Kelli Warren – Chairman, Forsyth County Republican Women
Debbie Whelchel – Gwinnett County Activist Leader
Katie Frost – Statewide Activist Leader
Denise Burns – 14th District Activist Leader
Bobbie Franz – Fulton County Republican Leader
Vicki Temple – Henry County Republican Leader
Nancy Hollingshed – Chairman, Paulding County Republican Party
Katie Spee – Republican Activist Leader
Christy Van Gundy – Republican Activist Leader
Denise Ognio – Statewide Activist Leader
Sharon Fry – Richmond County Republican Leader
Linda Clarkson – Vice Chairman, Evans County Republican Party
Leslie Jefferes – Henry County Republican Activist
Vikki Consiglio – Statewide Activist Leader
Kellie Austin – Statewide Activist Leader
Carolyn Garcia – Statewide Activist Leader
Judi Quigley – Gwinnett Republican Activist Leader
Judy Craft – Co-Founder – Conservative Republican Women of North Atlanta
Jansen Balisi Head – Statewide Activist Leader
Maureen Giannone – Grassroots Activist Leader