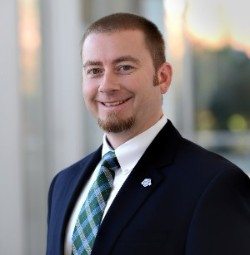 Kenneth Franks was recently named the Administrator of the Georgia Department of Transportation's (GDOT) $1.8 billion, 871 project, Transportation Investment Act (TIA) Program.  Franks has 15 years of experience with GDOT, and most recently served a Regional Coordinator for TIA.
In his new role Franks will oversee the facilitation of the TIA program, which was created after three Georgia regions – River Valley, Heart of Georgia Altamaha and Central Savannah River Area – passed the 2012 TIA Referendum. Now at the midpoint of the program, Franks will manage the completion of all projects on each regions' Final Investment List.
GDOT Chief Engineer Meg Pirkle praised Franks for his continued dedication to the people in the TIA regions, and believes that his passion for and knowledge of the program will be instrumental as the Middle Georgia and Southern Georgia Regions vote on the TIA referendum one-cent sales tax this May.
"In addition to considerable project management experience and familiarity with TIA communities, Kenneth is an enthusiastic leader and is very committed to executing voters' expectations of TIA. He's an ideal choice to not only lead the program at present, but to herald in the potential expansion of TIA to two new regions this spring," Pirkle said.
Kenneth began his career with GDOT in 2003 as a Civil Engineering Technologist in the Office of Environment and Location. He went on to hold positions in Design Policy Support, Program Delivery and Program Control offices.
Franks was born and raised in Dublin, GA, and is a graduate of Georgia Southern University with a degree in Civil Engineering Technology.