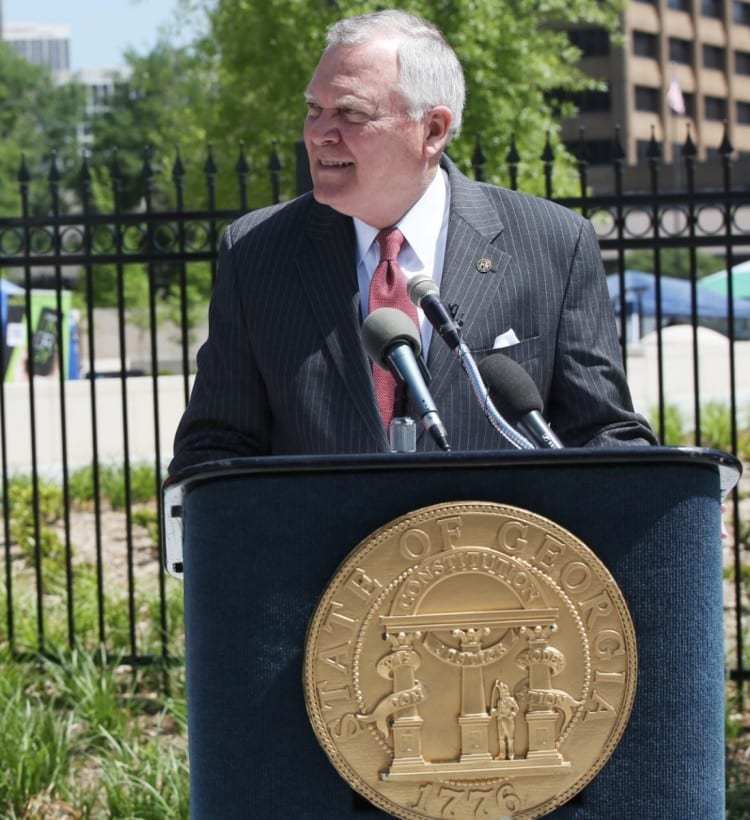 The Zell Miller Foundation has announced that former Governor Nathan Deal will be honored with the Zell Miller Award for Distinguished Public Service at the Zell Miller Foundation's third annual Legacy Celebration on February 23, 2019 at The Ritz-Carlton Atlanta.
"Governor Deal has embodied true leadership throughout his entire public service career, from his time in the United States Army to most recently serving as Georgia's 82nd Governor" said Bryan Miller, the Foundation's Executive Chairman. "The Foundation is very proud to honor Governor Deal's service to our great state with this award."
Previous recipients of the Zell Miller Award for Distinguished Public Service include Hank Huckaby, former Chancellor of the University System of Georgia, and David Ralston, Speaker of the Georgia House of Representatives.
Now in its third year, the annual Legacy Celebration is the signature event for the Zell Miller Foundation. The evening will commemorate Former Governor Zell Miller's 87th birthday by recognizing his many contributions to Georgia during his forty-six years in public service and celebrating the work of the Foundation that bears his name.
Please visit www.millerfoundation.com for more information.
About the Zell Miller FoundationEstablished in 2016, the Zell Miller Foundation is a 501(c)3 nonprofit dedicated to preserving Governor Miller's legacy through programs that promote education, leadership, and service. Founded by his grandson, Bryan Miller, it is the only entity created with Zell Miller's authority for the purpose of promoting his legacy.
About Zell Miller
Zell Miller began his career as a history professor at Young Harris College. He served as Mayor of Young Harris from 1959-1960 and as a Georgia State Senator from 1961-1964. Miller was elected Lieutenant Governor in 1974 and served from 1975-1991. He is currently the longest serving Lieutenant Governor in Georgia history having served 16 years.
Zell Miller served as the 79th Governor of Georgia from 1991-1999. While a candidate for Governor in 1990, Miller developed a plan to create a statewide lottery exclusively for the purpose of funding education initiatives. As Governor, he created the HOPE Scholarship and Georgia's Voluntary Prekindergarten program.
Today, the Georgia Lottery Corporation has raised more than $20 billion to fund the HOPE Scholarship and Georgia Pre-K. This money has allowed more than 1.8 million students to go to college in Georgia on HOPE Scholarships, and more than 1.6 million four-year old children to begin their education early.
In 2000, Miller was appointed to the United States Senate by Governor Roy Barnes to fill an unexpected vacancy created by the death of Senator Paul Coverdell and was later elected to serve the remaining four years of that term. He chose not to seek reelection and retired from the U.S. Senate in January 2005.
Information direct from Zell Miller Foundation