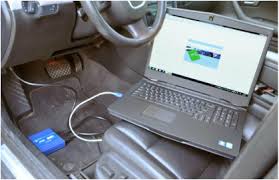 The Georgia Department of Transportation (Georgia DOT) has received two grants totaling $257,000 from the Governor's Office of Highway Safety (GOHS) to update, modernize and increase consistency with procedures for collection and reporting of data used in crash analysis in Georgia.
The first grant, $225,000 for software support, will help finance continued software development and updates for law enforcement agencies statewide to align to the Model Minimum Uniform Crash Criteria (MMUCC), a national standard that improves consistency in motor vehicle crash reporting and enhances the value of crash data for health, enforcement, engineering and safety professionals.
The second grant will finance $32,000 for developing a program to convert Fatal Analysis Reporting System (FARS) data tables to a language that can be easily queried, manipulated, and understood to aid in the reduction of vehicle crashes, injuries and fatalities. Presently, data queried and extracted from the National Highway Traffic Safety Administration (NHSTA) FARS database tables consists of coded data that require a considerable amount of unwarranted time and effort to convert to an understandable and usable format (a natural language).
"We are very thankful to have been provided the funds to update these two initiatives in an effort to improve the quality and accuracy of the data we are using," said Brian Vann, data manager and crash analyst with the Georgia Department of Transportation. "The ability to more easily and quickly manipulate and interpret the data provided by our state's law enforcement agencies means we can provide a more timely and accurate depiction of fatalities in Georgia, allowing the department to better tailor our efforts towards zero deaths on Georgia's roads."
"The Governor's Office of Highway Safety is committed to keeping everyone safe on our roads and highways, from the smallest precious cargo to the most seasoned drivers," said GOHS Director Harris Blackwood.
The grants are in effect through September 2018.
Georgia Department of Transportation plans, constructs and maintains Georgia's state and federal highways. We're involved in bridge, waterway, public transit, rail, general aviation, bike and pedestrian programs. And we help local governments maintain their roads. Georgia DOT is committed to providing a safe, seamless and sustainable transportation system that supports Georgia's economy and is sensitive to its citizens and its environment.
For more information about the grants, contact Brian Vann at 404.635.2823 or bvann@dot.ga.gov or E. Dave Adams at 404.635.2850 or eadams@dot.ga.gov. For more information about GOHS and its highway safety programs visit www.gahighwaysafety.org.