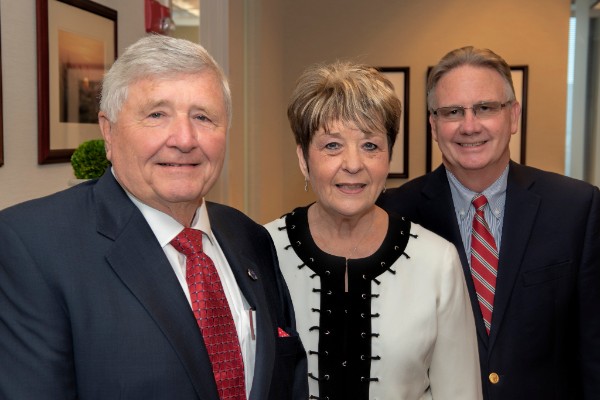 The State Transportation Board elected its new executive leadership team during its monthly meeting on August 16, 2018. Ann R. Purcell was elected unanimously as chairman; Tim Golden was elected vice chairman; and Rudy Bowen was elected secretary. The new positions are effective immediately. Board elections are held annually to ensure that all regions of the state are represented at the executive leadership level.
New Chairman Ann R. Purcell of Rincon, Ga. has served on the board for five years and represents Georgia's 1st Congressional District which encompasses 17 counties in southeast Georgia region. She is a community and civic leader, a published Genealogist, former educator and previously served 18 years in the Georgia House of Representatives. While in the House of Representatives, she served as chairman on several committees. During her last years she served as Chairman of the the Public Safety and Homeland Security Committee and as Vice-Chairman of the Governmental Affairs Committee. She is a graduate of Georgia Southern College.
Most recently, she was board vice chair, served as chair of the Gateways Committee and also served on two other committees. She also previously served as board secretary. As chair, Purcell will serve as ex officio member of all committees.
Purcell replaces Jamie Boswell of Athens, Ga. Boswell represents the 10th Congressional District. During his tenure, Georgia DOT advanced two Major Mobility Investment Program projects; the first – a widening project on I-85 in Gwinnett, Barrow and Jackson counties – broke ground, and the second – the I-16/I-95 Interchange reconstruction – was awarded. Additionally, Boswell focused on meeting Georgia DOT staff in every district and working with them to support their needs and efforts. He is a business and civic leader; president and owner of a group of insurance, real estate and appraisal companies; and a graduate of the University of Georgia.
"I am humbled to have been elected to this position by my peers," said Purcell. "This is a fantastic board of people who are all working to make Georgia the best it can be in terms of transportation and connectivity. I look forward to taking on this role and continuing to work with outgoing Chairman Boswell, Commissioner McMurry and the employees of the Georgia DOT to continue on our path of innovation, leadership and success."
Vice Chairman Tim Golden of Valdosta, Ga. represents the 8th Congressional District. He was elected to the board in 2015 and most recently was board secretary. Golden served on three committees and previously chaired the Property Utilization Committee. He is a business and civic leader; partner at Capitol Benefits Group, LLC; a former member of the Georgia House of Representatives serving four terms and the Georgia State Senate serving eight terms. He is a graduate of Valdosta State University.
Secretary Rudy Bowen of Suwanee, Ga. is a businessman and a community leader who represents the 7th Congressional District. He was elected to the board in 2007. Bowen chaired the Finance Committee and served on three other committees. Bowen is a graduate of Dawson High School.