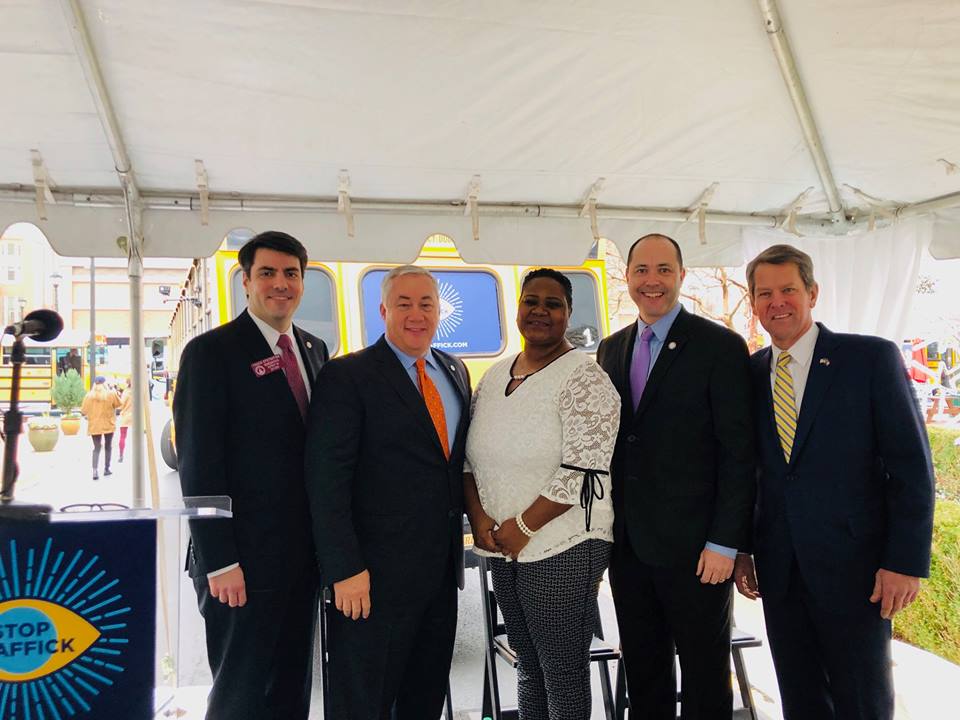 Attorney General Chris Carr, Governor-elect Brian Kemp, Street Grace, members of the Georgia General Assembly and other partners Wednesday joined to shine a light on domestic minor sex trafficking in Georgia by hosting the Stop Traffick event. The group held a brief press conference before sending school busses wrapped with an anti-human trafficking message through Atlanta near Mercedes-Benz Stadium, creating a mile-long moving billboard. The goal: change the conversation from "traffic" to "traffick."
"With January being National Human Trafficking Awareness Month, today's Stop Traffick event exemplifies Georgia's unified commitment to raising visibility and bringing an end to domestic minor sex trafficking," said Attorney General Chris Carr. "We believe this unique event gives the people of Georgia a better understanding of the size and scope of this industry in our state, so that we can rescue those who may already be involved and enlist more eyes and ears to help us prevent other children from falling victim."
The Office of the Attorney General's efforts to combat domestic minor sex trafficking include working with local, state and federal partners on investigations, prosecutions and trainings. In addition, the office works with the Criminal Justice Coordinating Council's Statewide Human Trafficking Task Force and a number of non-profit partners to raise awareness and conduct community outreach programs.
"Georgia has a world-class logistics network, which has made our state a global leader in business and commerce. Sadly, criminals are utilizing this same infrastructure for illicit and evil purposes," said Governor-elect Brian Kemp. "We encourage all Georgians to learn the warning signs for human trafficking and the appropriate ways to report suspicious activity to law enforcement."
To help maintain the spotlight and reduce the frequency of incidents, we are encouraging citizens to join Traffick Watch, a group of Georgians who have pledged to look for signs of human trafficking in the places where they work and live. To learn more about Traffick Watch and sign up, visit
www.StopTraffick.com
, which also has information about the issue, access to training materials and links to additional resources.
"Every day in Atlanta, people talk about our traffic problem. Today, we urge you to talk about our more serious 'traffick' problem," said Bob Rodgers, president and CEO of Street Grace. "Child sex trafficking is an industry that thrives in darkness. Our goal is to develop a network that will continually shine a light on this issue and put an end to the abuse."
The Stop Traffick event was made possible through a partnership with Georgia Governor-elect Brian Kemp, the Georgia General Assembly, Street Grace, Atlantic Station, Gwinnett County Public Schools, the Georgia Department of Transportation, the Atlanta Police Department, the Georgia Department of Public Safety and the Georgia State Patrol, BBDO, Porter Novelli, Bark Bark and more.
Demand An End
Attorney General Chris Carr serves as the national and state ambassador for the Demand An End initiative – a partnership with Street Grace and the Georgia Bureau of Investigation. Demand An End focuses on education and awareness, aiming to create a united force and stop the growth and proliferation of sex trafficking by targeting the demand side of this issue. We are working to offer this comprehensive program in all 50 states. View states that have joined the movement 
HERE
. For more information on how you can Demand An End in your community, 
CLICK HERE
.