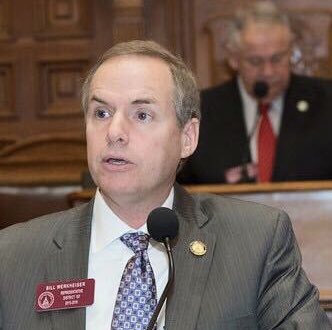 On Friday, March 13, we reached day 30 of the 2015 legislative session. This day, which is known as "Crossover Day" is the final chance for bills to pass from one chamber to the other. After Crossover Day, all bills passed by the House must "cross over" to the Senate, and vice versa and we will then spend the remaining ten legislative days considering Senate bills.
HB 131, also known as "The End to Cyberbullying Act" would expand public school policies on anti-bullying. Bullying would be prohibited through the use of technological equipment such as cell phones, wireless devices, computers, email, instant messaging, etc. The law would apply regardless of whether the act originated on school property, using school equipment, or off campus through personal cell phones and social media websites.
HB 17, or the Hidden Predator Act, is aimed at reforming the statute of limitations for child sexual abuse victims. Under current Georgia law, a child sex abuse victim may only bring action against his or her abuser up to five years after the victim turns 18 years old. This would provide a 30 year extension to the civil statute of limitations for child sexual abuse claims. The legislation would also allow for a retroactive "window" that would provide a two-year time frame for sexual abuse victims, whose civil claims were blocked by the statute of limitations in the past, to file a case against their perpetrator.
House Bill 225 ensures proper licensing requirements for drivers in app-based ride sharing companies, such as Uber and Lyft. Unlike ride share drivers, traditional taxi and limo drivers must go through a state issued background check with fingerprinting to obtain a "chauffeur endorsement," which indicates that the driver is authorized to operate a vehicle to transport passengers for pay. The legislation also requires the companies to obtain the same levels of liability insurance as taxi and limo drivers and either pay state sales taxes or an annual fee for each car in its network. I feel confident that HB 225 strikes a great balance of ensuring public safety, while also supporting an environment that is conducive for popular, innovative ride sharing businesses. Both Uber and Lyft supported this bill.
House Bill 48 allows law enforcement officers, firefighters, and other first responders who have sustained a major injury on the job to receive special license plates. HB 48 also allows disabled veterans to receive free license plates.
House Bill 110 legalizes the sale of fireworks in the state of Georgia. Previous restrictions lead many Georgians to drive across state lines to buy their fireworks. Now more dollars will stay at home in Georgia and creating new jobs as these stores open. The money from firework sales will not only boost local economies, but it will also generate new tax revenue.
Bill Werkheiser
GA House of Representatives
District 157
Coverdale Legislative Office Building
Suite 411-E
Atlanta, GA 30334
Phone (404) 656-0126
Fax (404) 651-8086
Cell (912) 237-0145
bill.werkheiser@house.ga.gov